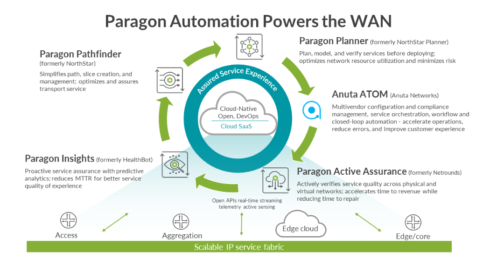 Juniper Networks is hoping to bring "Experience-First Networking" to the industry with the release of Juniper Paragon Automation.
Experience-First Networking comes from the idea that when tools and processes break, consumers are the first to realize — often even before the network operators know something has gone wrong. According to Juniper, this issue isn't an indicator that network operators don't care about their users, but that current operation models are often built on manual processes and outdated tools that can't keep up with increasing complexity, scale, and performance requirements. 
Juniper believes that in order for companies to thrive in 5G and multicloud ecosystems, tools and processes need to focus on consistently delivering good user experiences.  
Juniper Paragon Automation solves this issue with a modular portfolio of solutions to provide customers with closed-loop automation. The portfolio includes:
Paragon Pathfinder, which simplifies network slicing and deployment 
Paragon Planner, which allows network operators to plan, model, and verify services before deploying them
Anuta ATOM, which provides configuration and compliance management, service orchestration, and workflow and closed-loop automation
Paragon Active Assurance, which continuously verifies service quality across networks.
Paragon Insights, which provides predictive analytics
According to Juniper, the solution helps assure consistent experiences, minimize risk, deploy new services quickly, turn network insights into predictive actions, maximize return on network investments, and continually improve the network and services. 
"Traditionally, because many of the network operators have been focusing on just connectivity, they were able to work with these archaic tools, automating them from manual CLIs to some API-driven, to some level of provisioning of the nodes. But they have to shift into experience delivery mode," said Julius Francis, senior director of product marketing at Juniper Networks. "With Paragon Automation we want to set them up for now, the known applications, and also the unknown applications. What that means is they could now roll out services faster and when they roll out, they know that service is guaranteed to give that quality metrics, and also it doesn't impact any existing services that are deployed in the network."