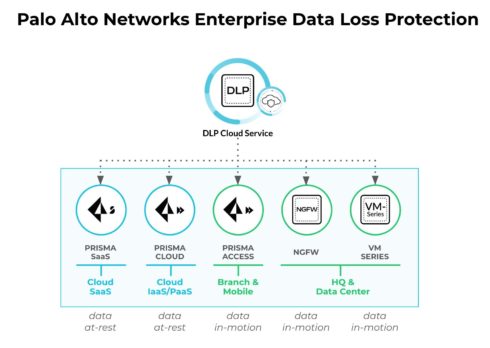 Palo Alto Networks has announced a new data loss prevention solution called Enterprise Data Loss Prevention (DLP). According to the company, the solution helps prevent data breaches by identifying intellectual property and PII throughout the enterprise, facilitating regulatory compliance, and inhibiting risky user behavior. 
"Data breaches are a huge and growing problem worldwide, but the existing legacy and point solutions are not accessible, appropriate or effective for many of the companies that need them," said Anand Oswal, senior vice president and general manager, Firewall as a Platform, Palo Alto Networks. "Our new Enterprise DLP solution is powerful; simple to deploy, with no new infrastructure needed; integrates with existing security technologies; and works for companies whether they keep their data in the cloud, on-prem or take a flexible approach."
Trend Micro announces cloud-native network security solution
Trend Micro Cloud One – Network Security provides comprehensive protection of private clouds. Key features include cloud protection, threat identification, transparent deployment, payment flexibility, and a single console for management. 
"We know that many network security solutions aren't designed for the cloud: they're painful or impossible to deploy, disrupt key business processes and may leave organizations exposed to threats," said Wendy Moore, vice president of product marketing for Trend Micro. "Users can deploy our cloud-based network security in minutes for simplified protection to securely deliver business outcomes and meet compliance requirements."
ThreatQuotient announces integration with Infoblox 
The combination of ThreatQuotient's threat intelligence platform with Infoblox' contextual data will enable organizations to categorize, manage, and respond to threats faster. 
It will support a number of use cases, such as allowing joint customers to assess, categorize, and manage security incidents; eliminate unnecessary indicators before they enter a network; and enforce security by blocking DNS requests to malicious resources
"Security operations tasks such as monitoring for lookalike domains are extremely time-consuming. Teams leveraging Infoblox and ThreatQ, such as TIP administrators, will gain enhanced visibility into potentially malicious IP addresses and DNS threats," says Dave Barry, Director of Business Development, Infoblox. "Our integration with ThreatQuotient offers customers the tools to further optimize their security posture from the ground up and achieve next-level network security through deeper, more relevant context and automation."
LogDNA introduces Kubernetes Enrichment for Log Management
The new solution will provide a single pane of glass for observability of users' underlying Kubernetes infrastructure and deployed services. The solution will ensure that developers don't have to leave their log viewer in order to get the information they need to debug deployment problems. 
Also included in the Kubernetes Enrichment suite are Kubernetes Events and Metrics. Kubernetes Events will be generally available to all LogDNA customers and Kubernetes Metrics will be available for LogDNA Enterprise customers.