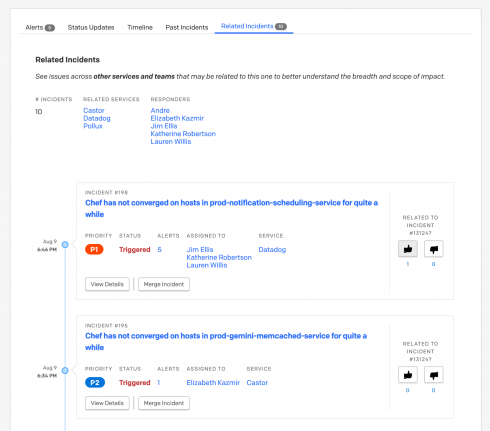 PagerDuty is adding new machine learning capabilities to its platform in order to help IT teams reduce costs and impact from slow downs and outages. According to the company, it takes an average of 80 minutes for teams to respond to an issue. The company's new solution works to reduce that time to as little as five minutes. 
New capabilities include Intelligent Triage and Intelligent Dashboards. The Intelligent Triage is a part of PagerDuty's Event Intelligence product, and uses machine learning to group alerts together and provide additional context into issues. The Intelligent Dashboards will be a part of the company's Analytics product, and will use machine learning to provide recommendations on how to resolve issues as well as performance metrics. In addition, it includes the Spotlights recommendation engine to provide context for improvements. 
The company also announced the PagerDuty for Customer Service designed to help empower front-line customer service agents and solve issues faster. 
Stateless announces software-defined interconnect platform
Stateless is releasing a software-defined interconnect platform Luxon, designed to provide complete visibility, automation and API-driven functionality. 
"Luxon allows providers to control and connect to every endpoint, including portfolio data centers, tenant sites and hyperscale clouds. Importantly, Luxon's capabilities enable network providers to position themselves strategically within the network stack and to monetize assets in new ways, without introducing management challenges or overhead," the company wrote in an announcement. 
Features include multitenancy environments, automation, visibility and control, and consolidation and evolvability. 
Checkmk 1.6 released 
The latest version of the hybrid IT monitoring solution Checkmk 1.6 is now available with major updates. 
According to the company, the new release comes with new and improved features for monitoring cloud environments and container infrastructure. Additionally, Azure users are getting new plug-ins to monitor storage space, databases, virtual machines and the cloud of the cloud. Other improvements and additions include improved checks for Docker, Kuberentes and OpenShift; the concept of labels for hosts and services; and new integrations with Slack, ServiceNow, JIRA, Opsgenie, VictorOps and more. 
Sentry announces $40 million round of funding
Software error monitoring company Sentry wants to reinvent application performance monitoring with new investment from a Series C funding round. 
"Now that cloud is the de facto standard back-end server infrastructure, the next wave of innovation and efficiency for organizations is in front-end devices, where code meets consumers in application experiences on Single Page Applications, desktops, and mobile and IoT devices," said David Cramer, co-founder and CEO of Sentry. "It's time to replace legacy application performance monitoring solutions that were not designed for—and often don't work at all for—the complexity and constant change of DevOps and high-velocity application development."
Sentry provides an open-source agentless error tracking platform that pinpoints exact errors with depth and detail, according to the company.