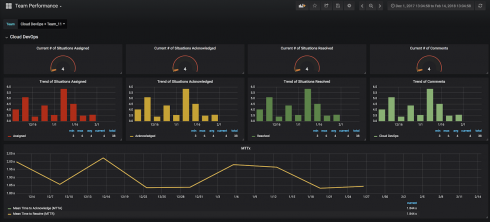 AIOps provider Moogsoft has announced an update to its platform. According to the company, Moogsoft 7.2 introduces capabilities to optimize service assurance, such as a new workflow engine, AI visualization, performance dashboards, and tool integrations.
"Our goal is to make Moogsoft the solution of choice for all enterprises – large and small – for agile, proactive event resolution," said Phil Tee, chairman and CEO of Moogsoft. "To this end, release 7.2 empowers enterprises to avoid outages, meet service level agreements, and accelerate digital transformation."
Cockroach Labs unveils new cloud partnership program
Cockroach Labs has announced a new cloud partnership program. The company now has partnerships with AWS, Google Cloud Platform, Microsoft Azure, IBM Cloud, Rackspace, Oracle Cloud, DigitalOcean, and Openshift.
Cockroach Labs believes that these partnerships will allow customers greater flexibility by allowing them to deploy CockroachDB on-premise, in the cloud, or across clouds.
StorageCraft updates ShadowXafe
StorageCraft has revealed a major upgrade to its ShadowXafe product. ShadowXafe now includes enhanced features for Managed Service Providers, such as data monitoring, protection, and recovery. It also now alleviates pressure on IT skills and training due to its reduced complexity.
"Depending on whether you're an SME or an MSP, solving the data protection and recovery dilemma is a burden or a business opportunity. SMEs struggle to cope because of limited skills or budget," said Shridar Subramanian, vice president of product management and marketing at StorageCraft. "Meanwhile, MSPs miss the opportunity to scale and respond to growing demand. ShadowXafe solves both sides of the equation. For SMEs, it provides best in class protection and recovery with ease. For MSPs, it brings the advantage of being able to standardize on a single data protection platform that also delivers on scale, productivity, and profitability."