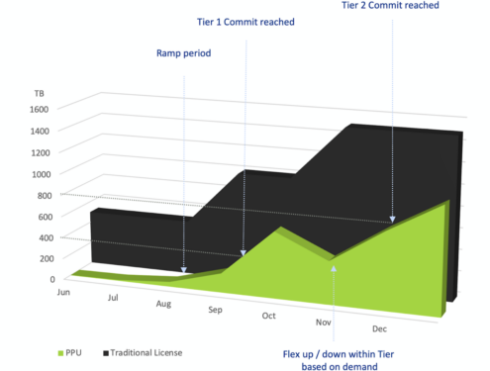 Cohesity has announced a consumption-based subscription pricing plan. With the new pricing model, users will only be charged for the data management services used. Prior to this, customers would have to pre-purchase blocks of capacity. 
"More companies are embracing a consumption-based approach in order to reduce capital costs and to make adjustments on the fly as business dictates," said David Kosman, head of Global Cloud Service Providers at Cohesity. "We are making it easier than ever for managed service providers to meet enterprise and mid-market customers where they are and quickly evolve as the customer journey progresses."
Microsoft is launching new memory-optimized Azure Virtual Machines 
The new VMs are based on 2nd generation Intel Xeon Platinum 8272CL, which features Intel Deep Learning Boost Technology, Intel Advanced Vector Extensions 512, Intel Turbo Boost Technology 2.0, and Intel Hyper-Threading Technology. 
Microsoft is announcing two new families of VMs: The Azure Ddv4 and Ddsv4 and Edv4 and Edsv4, and the Azure Dv4 and Dsv4 and Ev4 and Esv4. The former offers a local data temporary disk, and the latter relies on remote disks and does not provide temporary local storage, Microsoft explained.
According to Microsoft, these new VMs offer up to 20% improved CPU performance compared to their predecessors. 
Centrify announces external credential storage plugin for ServiceNow
The new plugin will allow for more secure IT operations. ServiceNow and Centrify customers will be able to obtain passwords through the Centrify Privileged Access Service through this plugin. Centrify rotates passwords regularly, ensures they are secure, and makes them accessible from anywhere through its SaaS service.
"Digital transformation has significantly expanded the breadth of the corporate IT estate, both on-premises including private cloud, as well as with workloads increasingly moving to multi-cloud environments," said Jeremy Stieglitz, VP of Product Management at Centrify. "Centrify's Privileged Access Service serves a valuable role in simplifying application-to-application access via a single source of truth for hundreds of thousands of systems to talk to each other, enabling secure inventory discovery and orchestration." 
Salt Security closes $20 million Series A funding round
Salt Security is an API security company that reveals the vulnerabilities in APIs before they are leveraged for attacks. This latest funding will be used for product development and innovation, addressing new use cases, and expanding sales and marketing.
The round was led by Tenaya Capital, with participation from Haim Sager and Aya Peterburg, the co-founders of S Capital (previously called Sequoia); Marius Nacht, co-founder of Check Point Software; and René Bonvanie, EVP of Strategic Accounts at Palo Alto Networks. This funding round brings the company's total funding to $30 million.