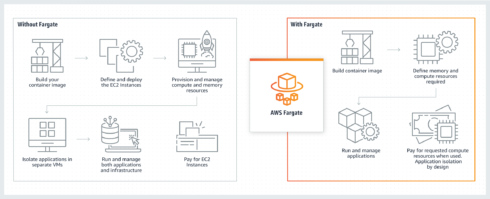 Amazon has announced the latest version of AWS Fargate, which is a serverless computing engine for containers.
New features in AWS Fargate 1.4 include support for Amazon Elastic File System endpoints, 20 GB of ephemeral volume for Fargate tasks, network performance metrics, network states, and support for the CAP_SYS_PTRACE Linux capability. 
Cohesity raises $250 million in Series E funding
Data management company Cohesity has announced it secured $250 million in Series E funding. This brings the company's total funding to over $650 million. Cohesity will use this funding to advance research and development, expand its reach, and extend relationships with its partners.
This round was led by DFJ Growth, Foundation Capital, Greenspring Associates, and Wing Venture Capital, with support for existing investors Sequoia Capital, SoftBank Vision Fund 1, HPE, and Cisco Investments. 
N2WS Backup & Recovery v3
N2WS has announced the release of N2WS Backup & Recovery v3. New features include enhanced data lifecycle management, recovery scenarios, AWS cost explorer, and improvements to the resource control cost optimization and user interface.
With this release, the solution is now also accessible via the AWS Marketplace.  
PC Matic expands suite of cybersecurity solutions
Cybersecurity company PC Matic has announced an update to its suite of cybersecurity solutions for managed service providers (MSPs).
It has added a Ransomware Lifeline, which is designed to provide IT teams with control of endpoints from a cloud-based console. It also added RDP Lifeline, which allows IT admins to secure and monitor RDP ports within their network. 
"As cyber-threats continue to grow in frequency and complexity, PC Matic has worked tirelessly to develop these innovative solutions that will help keep America safe," said PC Matic CEO Rob Cheng. "Having already seen success with these products across a variety of other customer bases, we are proud to add these two cutting-edge solutions to our suite of programs for MSPs."