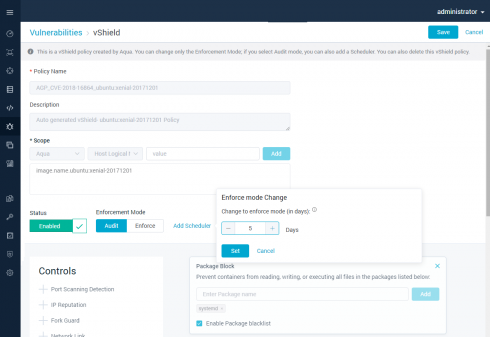 Aqua Security has announced the release of version 4.2 of its platform. This release introduces Vulnerability Shield, which is an automated vulnerability and component analysis tool. Vulnerability Shield can generate policies that will detect and block access to vulnerable components.
Aqua 4.2 also includes advanced protection for serverless functions, container image scanning by layer, a new assets view, and native integration with Prometheus.
Gravitational announces IoT capabilities for Teleport
Gravitational has announced IoT capabilities for its privileged access management solution, Teleport. The solution will grant users increased visibility and allow them to safely access and manage IoT devices from a single endpoint.
"It is all too common to see companies struggling the secure their IoT infrastructure," said Ev Kontsevoy, CEO of Gravitational. "Teleport gives companies the single pane of glass they need to clearly see what is happening with their IoT devices and cloud servers. Our goal is to empower our users to leverage their existing investments in SSH-based deployment tools or in Kubernetes to successfully implement IoT security and compliance and to lower the operational overhead of running code in both contexts."
DH2i releases DxConnect for integrated Zero Trust connectivity
DH2i has released its DxConnect solution for integrated Zero Trust connectivity. According to DH2i, the solution will allow developers and system admins to build an integrated Zero Trust infrastructure without using a VPN.
Specific features of DxConnect include micro-perimeters, discreet invisibility, smart availability, and an open API.
Remote.it expands Virtual Private Internet solution
Network provider remote.it has announced new capabilities for its Virtual Private Internet solution that is designed to protect connected devices and cloud, container, web, and edge applications.
According to remote.it, access, credentials, and connections for TCP/IP ports are only available to devices on the remote.it network, which makes IP, open-port, and DDoS attack impossible.
"Thanks to the Internet, the world is now always connected. But, unlike the public Internet, enterprises need a globally accessible network that is fundamentally private, while simultaneously being easily deployable and accessible from anywhere," shared Ryo Koyama, co-founder and CEO of remote.it. "remote.it's Virtual Private Internet solution does exactly that, and since it is a software-only solution, it can be rapidly deployed to manage existing as well as new assets."
Rackspace announces new partnership with MuleSoft
Rackspace has announced a new partnership with MuleSoft. The new collaboration will enable them to help customers accelerate application and data integration through APIs, on-premises, or in the cloud.
"As companies embrace a multi-cloud application environment, integration platform-as-a-service solutions will be needed to deliver the great customer experiences people are demanding," said Matt Stoyka, Vice President of Professional Services and Applications at Rackspace. "Together with MuleSoft, Rackspace will be able to better serve our customers, providing them with a long-term, dynamic and scalable integration strategy built for the future."