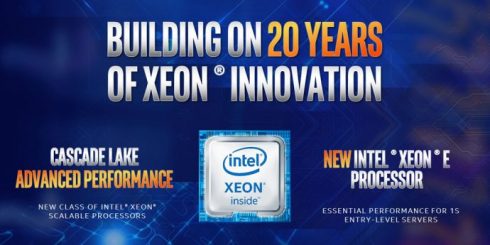 Intel is giving IT administrators more options to choose from with the announcement of two new products in its Xeon processor line.
Cascade Lake is a new Intel Xeon Scalable processor that was designed for high-performance computing, AI, and infrastructure-as-a-service workloads, the company explained.
According to the company, Cascade Lake furthers Intel's goal of delivering core CPU performance gains. Cascade Lake is expected to be available in the first half of 2019.
The other product, Intel Xeon E-2100, is now generally available. New servers containing the Intel Xeon E-2100 will be able to provide an additional layer of hardware security when used with cloud applications.
Intel Xeon E-2100 is targeted at small- and medium-sized businesses, Intel explained. Small businesses will benefits from this processor's enhanced performance and data security, enabling businesses to operate smoothly by supporting file-sharing, storage and backup, virtualization, and employee productivity solution, the company stated.
"We remain highly focused on delivering a wide range of workload-optimized solutions that best meet our customers' system requirements," said Lisa Spelman, vice president and general manager of Intel Xeon products and data center marketing. "The addition of Cascade Lake advanced performance CPUs and Xeon E-2100 processors to our Intel Xeon processor lineup once again demonstrates our commitment to delivering performance-optimized solutions to a wide range of customers."