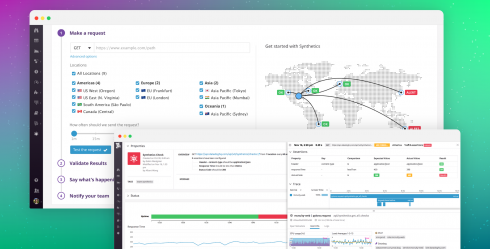 Datadog is introducing new capabilities to provide proactive error detection. Today, it launched Datadog Synthetics, which monitors application and API availability by simulating user traffic.
Normally, when issues are detected by synthetic monitoring systems, engineers need to use multiple tools to troubleshoot the issue, which results in prolonged outages.
According to Datadog, Synthetics is built on the company's existing platform for infrastructure and application performance monitoring. This enables logs, traces, and infrastructure metrics of issues detected by Synthetics to be immediately available for troubleshooting. The solution provides engineers with all of the data that had been ever collected related to the issue, resulting in immediate root cause diagnostics.
"The performance of a given web page or API can have a significant impact on our customers' businesses," said Albert Wang, director of product management at Datadog. "With Synthetics, these customers can be proactively alerted to poor performance, bugs, and outages and dig more deeply into their causes with Datadog's fully integrated infrastructure monitoring, application tracing, and log management products."