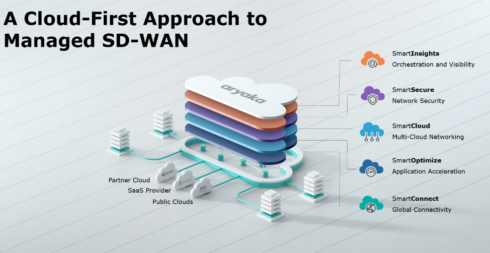 Cloud-first WAN company Aryaka has announced an expansion to its managed SD-WAN offerings designed to disrupt traditional SD-WAN and legacy service provider models. The new SmartServices expansion includes four additional 'as-a-service' offerings for network and application acceleration, multi-cloud networking, managed security, and actionable insights. 
"For us, the notion of cloud-first is not new. Aryaka's architecture has been purpose built for this from Day-1. It is not also about public clouds only, as one might be tempted to think. Rather, the philosophy is built on a few principles that focus on agility, simplicity, choice and the ability to deliver an amazing user and application experience," Shashi Kiran, chief marketing officer at Arakya, wrote in a post.
RELATED CONTENT: Report: Companies underestimate the challenges of deploying an SD-WAN
The SmartServices portfolio includes:
Aryaka SmartConnect: Connectivity as a service
Aryaka SmartOptimize: Network and application acceleration as a service
Aryaka SmartCloud: Managed multi-cloud networking as a service
Aryaka SmartSecure: Security as a service
Aryaka SmartInsights: Actionable insights as a service
In addition, the portfolio includes global NOCs, 24×7 customer support and global service level agreements. 
Aryaka is also making its global SD-WAN offering available for regional deployments with optional application acceleration technology, the company explained. "With pre-defined regional clusters and points-of-presence, for the first time Aryaka is now offering a highly affordable, fully managed regional WAN that delivers the same quality of experience as its global SD-WAN offering," the company wrote in an announcement. 
Lastly, Aryaka announced a new service for managed security SD-WAN deployments. The offering integrates with Virtual Network Functions from Palo Alto Networks. The company plans to extend the service to other vendors in the future.