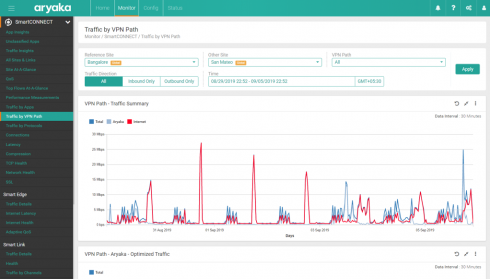 SD-WAN provider Aryaka announced the release of its global managed SD-WAN service HybridWAN. The new release is designed to bring flexibility to SD-WAN, provide guaranteed performance, effective transport, and an 'Internet-first' paradigm. 
"For enterprises undergoing digital transformation, Aryaka's new capabilities further ease SD-WAN adoption by offering flexible WAN connectivity and security options," said Lee Doyle, principal analyst at Doyle Research. "A managed SD-WAN offering that integrates connectivity, security, application optimization and multi-cloud access helps shield the enterprise from operational complexity and increase their WAN transformation ROI."
RELATED CONTENT: Report: Companies underestimate the challenges of deploying an SD-WAN
According to research firm Gartner, SD-WAN should leverage "a variety of transport mechanisms to connect branches," and achieve reliability, improved performance and reduce costs. 
"The current status quo is simple: as they adopt SD-WAN, enterprises -among other things- look to reduce cost and increase agility by looking beyond MPLS for branch connectivity. The cost gap between MPLS and internet connectivity can be as high as a 100x factor, while the performance gap is very significantly less," Paul Liesenberg, senior manager for Aryaka's product marketing team, wrote in a blog. 
Aryaka's HybridWAN helps secure SD-WAN adoption with zone-based firewall capabilities and micro-segmentation in support of multi-tenancy. In addition, it integrates edge intelligence, security, app optimization and visibility. 
"Zones extend Aryaka's existing north-south access firewall to east-west, such as separating employee, DMZ and external LANs. Micro-segmentation then extends this partitioning, either within a single enterprise or as part of a multi-tenant branch, across the SD-WAN," the company wrote in an announcement. 
More information is available here.