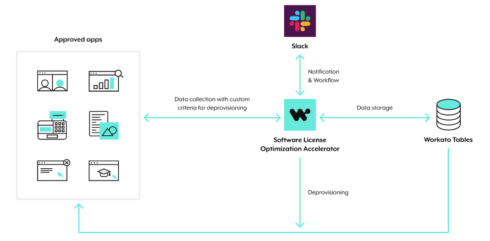 The automation platform Workato has announced its Software License Optimization Accelerator to help companies reduce unnecessary IT spending. It does this by analyzing application usage, identifying underutilized licenses, and initiating optimization processes. 
According to Workato, the current economic situation has been a concern on leaders' minds, causing them to start thinking about areas where costs can be cust. This "tech bloat" where companies invest in many applications and end up with a tech stack that is "too big and bulky for its own good," is a good place to start.
By using the Software License Optimization Accelerator, companies can eliminate licenses that are no longer being used, or potentially drop down to a lower tier that is more appropriate for their usage. 
It utilizes a Discovery Engine and Optimization Engine to achieve these results. The Discovery Engine collects data in the form of API or CSV exports from applications, analyzes the utilization of applications based on customized criteria, and generates recommendations. The Optimization Engine allows teams to manage workflows to optimize license usage, such as implementing processes that ensure approvals and actions are aligning with the organization's goals and structure.
The Software License Optimization Accelerator can also manage utilization based on a schedule, maintain usage history, and implement role-based access control. 
"It's reported that 38% of all software licenses are either unused or underutilized with approximately $34 billion in yearly licensing waste being generated in the US and UK alone. With the current economic climate, our team has focused on building solutions that can provide immediate savings by cutting costs or improving overall operational efficiency," said Dan Kennedy, VP of Enterprise Architecture at Workato. "Our team is excited to introduce the Software License Optimization Accelerator to our customers who are continually looking for new ways to deliver more value out of their existing resources."