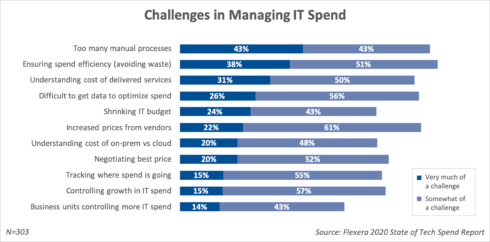 Digital transformation, cybersecurity and cloud first/cloud migrations are causing IT executives to make large technology investments, but many are struggling to manage those costs. A newly released report found while 8.2% of revenue is being spent on IT, the return on investment could be better. Additionally, more than half of respondents plan to increase IT spending over the next year.
"It's likely that many of these investments aren't attaining maximum ROI, and we identified that 30 percent or more of technology spend is actually being wasted. With the increasing uncertainty of U.S. and global economies, enterprises need to be prepared to manage their operations and finances when—not if—the next downturn kicks in. Proactively being able to dial IT spend up or down is a tremendous opportunity, and there is never a better time to address a potential problem than right now," said Jim Ryan, president and CEO of Flexera. 
The Flexera 2020 State of Tech Spend Report is based on more than 300 responses from IT executives working in large enterprises with 2,000 or more employees. 
"With this survey, we wanted to gain more insight into how enterprise organizations are embracing digital transformation, cybersecurity, cloud computing and other initiatives," said Ryan. "By doing so, we can then see if/how these initiatives are providing a competitive advantage for their particular industries, as they require sizeable investments in technology."
The top challenges when it comes to IT spending are: increasing spend efficiency, cutting waste, gaining visibility into costs, and managing IT spend effectively. Additionally, the report found that when it comes to visibility, the biggest obstacles are reporting on IT spend, and collecting IT spending data; and when it comes to managing IT, the biggest challenges are manual processes and ensuring spend efficiency. 
"Enterprises surely face challenges in gaining visibility into and optimizing IT spend, including allocating costs to business applications and services in today's complex IT architectures, aggregating costs across multiple organizational entities and ferreting out waste," the report stated. "Companies that invest time and resources in this effort, however, stand to achieve significant return on investment through the cost savings afforded by IT spend optimization."
Other findings included: cloud spend has surpassed on-premise software spend; 65% of respondents plan to reduce the number of data centers; and more than 80% plan to increase SaaS, IaaS and PaaS spending.