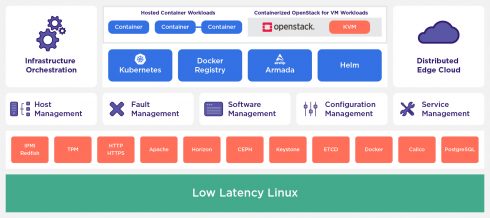 Open-source edge computing platform StarlingX has announced its 5.0 release. StarlingX combines technologies like Ceph, OpenStack, and Kubernetes to provide a software stack that gives everything enterprises need to deploy an edge cloud, according to the company.
StarlingX 5.0 adds support for edgeworker nodes, which are usually deployed at or close to the edge device and can be used to manage host-based enrollment. 
The release also adds support for Nvidia GPUs, which will allow operators to offload workloads that require GPU interacting, like machine learning or image-based processing.
There is also a new PTP notification feature, which further extends the solution's support for Precision Time Protocol. Operators will now be able to get notifications about the PTP state and take action if the system is no longer in sync with the PTP clock source.
Finally, StarlingX 5.0 adds integration with Vault for secrets management. Vault allows for the encryption and storage of secrets with access control. It includes features like dynamic secret generation, data encryption, leasing and renewal, revocation and audit/logging.  
Other new features include support for FPGA image update orchestration, improvements to certification management, containerized Ceph storage using Rook, support for Net-SNMP v3 for fault management, CephFS for cluster storage, and Container Image Signature Validation. 
"With market research indicating that about 70% of compute will be moving towards the edge over the next five years or so, we foresee continued strong adoption and investment in StarlingX community activity. As an original contributor to the code base and a strong supporter of the project, we are encouraged to see business being driven by StarlingX. The kind of ecosystem development we're seeing around StarlingX is exactly what you want to see in a thriving open source community," said Paul Miller, chief technology officer of Wind River.