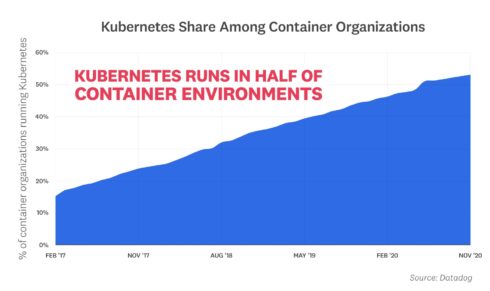 Kubernetes now runs over half of container environments. That is according to a new report from Datadog, which revealed that Kubernetes growth has doubled since 2017, and that it is continuing to grow steadily.
Datadog analyzed 1.5 billion containers in use by tens of thousands of its customers to get a sense for how image registries, service meshes, networking, and other technologies are being used in container environments. 
The company also found that almost 90% of containers are orchestrated. According to Datadog, orchestration is essential as these container environments grow in both size and complexity. Using an orchestrator ensures that organizations deploy faster and run applications reliably at scale, it explained.
Related Content: KubeCon North America 2020: Kubernetes Security Specialist certification, Red Hat OpenShift update, and TrilioVault for Kubernetes 2.0
Managed Kubernetes is also being heavily utilized. According to the survey, 90% of organizations running Kubernetes on Google Cloud use Google Kubernetes Engine (GKE) to manage their environments. GKE was the first managed Kubernetes service on the market, but newer manager services, such as Azure Kubernetes Service (AKS) and Amazon Elastic Kubernetes Service (EKS) are also seeing a strong uptick in adoption. 
"Containers made it possible to deterministically run the same software, in the same environment, with minimal noisy neighbor problems, time after time.  Kubernetes does complex scheduling work in order to make sure that these containerized applications are always running at an expected scale.  By managing the control plane in EKS, GKE, or AKS, the cloud providers take all of the boilerplate configuration off of engineering teams, offer a single interface over which software developers can deploy and scale their applications, and let engineering teams focus on what makes them unique – their applications.  It's not surprising at all that many developers take advantage of this, and this trend echoes the evolution of the public cloud itself," Ilan Rabinovitch, vice president of product and community at Datadog.
Organizations deploying Kubernetes tend to wait a while to upgrade, according to the report. Kubernetes releases a new minor version every quarter, but the most popular Kubernetes version is 17 months old, v1.15. 
"Any infrastructure platform will naturally have a long tail of adoption — the platform itself is a single point of failure, so teams need to get comfortable with its operation. The fact that the cycle is only 3-4 releases behind means organizations are actually being relatively aggressive about upgrading, given the normal pace of adoption for these kinds of platforms," said Rabinovitch.