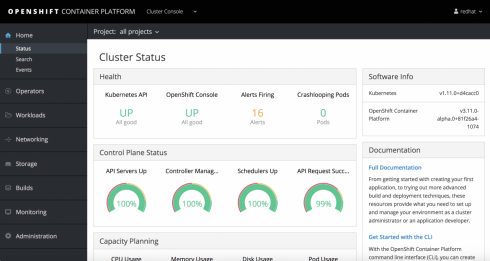 Red Hat has released version 3.11 of the OpenShift Container Platform. This release ships with Kubernetes 1.11 and includes new features to streamline Day 2 cluster and application operations.
"In short, we've made central administration for your clusters, environments, and users easier, while providing expanded Prometheus capabilities for gathering Kubernetes-native metrics," the company wrote in a post.
The new release adds an admin-focused console that includes new views for administrators to manage nodes, roles-based access controls, and other cloud infrastructure objects. This will enable organizations to gain an accurate view of services, containers and deployment tools while providing admins with greater visibility and monitoring capabilities, the company explained.
The release also adds cluster monitoring for Prometheus, a developer preview of Prometheus Operator, and Grafana dashboards. "With the cluster console, Prometheus, and Grafana dashboards, OpenShift Container Platform customers can have more confidence that they'll get a broad view of their Kubernetes clusters' performance, with the drill-down capabilities they may require," Red Hat wrote in a post.
There is also a number of new previews for Operators in this release. Red Hat announced several new Kubernetes Operators as developer previews, including Couchbase Autonomous Operator, Dynatrace OneAgent Operator, etcd Operator, MongoDB Operator, Prometheus Operator, and Red Hat AMQ Streams Operator.
Finally, the company revealed the OpenShift Container Engine, which offers the same Kubernetes platform that Red Hat and OpenShift are known for, but excludes some of the extended capabilities of the OpenShift Container Platform.
"As we've worked to integrate CoreOS technologies into OpenShift, we've also learned more about a broader set of customers. While there is a set of companies that value the pluggable container infrastructure and developer lifecycle automation capabilities of OpenShift Container Platform, there is also a set which would prefer to use the advanced DevOps, networking, and management tooling and capabilities which they have already been using," the company wrote.