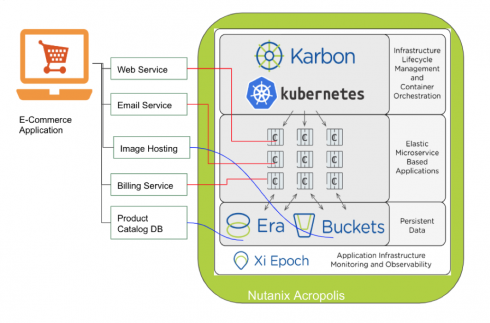 Cloud computing company Nutanix's Certified Kubernetes solution is now available. Nutanix Karbon simplifies the provisioning, operations, and life-cycle management of Kubernetes, the company explained.
Nutanix Karbon is available as part of the Nutanix Cloud Native stack, providing organizations with the ability to deploy and monitor Kubernetes clusters from a single solution. Other solutions in the Cloud Native stack include storage services Nutanix Volumes, Files, and Buckets; monitoring service Nutanix Xi Epoch; and database administration tool Nutanix Era.
"Integrated networking, monitoring, logging, and alerting is critical for operating any Kubernetes platform. The beauty of Karbon is the seamless integration of this entire stack while maintaining simplicity and efficiency," Nutanix wrote in a post.
Nutanix Karbon also solves the challenge of persistent storage when working with Kubernetes. All Karbon clusters are deployed alongside the Nutanix Container-Storage-Interface driver which integrates with Nutanix Volumes and Files to enable persistent storage, the company explained.
"Enterprises want to take advantage of Kubernetes to modernize their applications and increase the speed of software development. With Karbon they can now deploy and operate Kubernetes with a cloud-like experience in their private data center without having to master building and maintaining Kubernetes," said Greg Muscarella, vice president, products at Nutanix. "Nutanix's full cloud native stack will be able to provide a simple and quick way to deploy highly available Kubernetes clusters with the persistent storage, enterprise grade data services, object storage, and observability and monitoring that today's enterprises need."