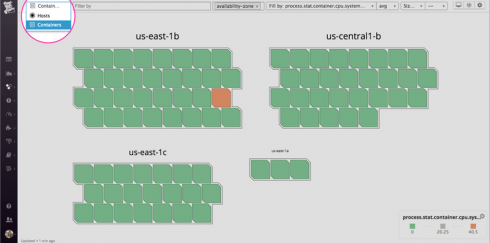 Datadog has announced a new method for monitoring and debugging containers in real time. The company introduced the container map view, which aims to provide a global overview of the environment to allow users to group, filter, and explore containers.
"In the past few years we have seen enormous growth in the adoption of Docker and orchestration technologies. We often hear from customers that they find it nearly impossible to scale their container infrastructure with confidence if they don't have comprehensive visibility into their dynamic orchestrated environments," Michael Gerstenhaber, product manager for Datadog, wrote in a post.
According to the company, the map view builds upon the Datadog's other container monitoring services, such as Autodiscovery, which detects newly launched containers and automatically starts monitoring the applications they are running.
The company believes that container map is a step forward towards providing more visibility into modern infrastructure and applications, allowing customers to gain more insight from containerized workloads.