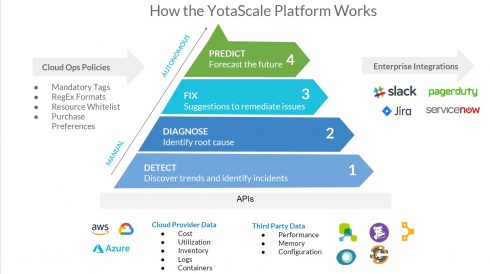 Organizations are moving applications to modern cloud computing infrastructures at a growing pace because they provide business services on-demand, but the transition to a usage-based OpEx cost model can come at a steep price.
A Silicon Valley startup company known as YotaScale claims it can automate cloud IT operations management and thereby reduce sticker shock and predict performance issues with its new service that uses machine learning and AI.
YotaScale can minimize downtime by detecting anomalies captured from APM, configuration management and log management tools and feeds from cloud providers, which can provide information to reduce unnecessary capacity and storage usage.
While various performance and configuration management tools have begun adding AI and machine learning in some form, YotaScale founder and CEO Asim Razzaq argues none provide a picture that's holistic enough to adequately predict and help cloud IT operations teams automate the remediation of excess public cloud capacity usage or prevent performance or security issues.
As much as 40 percent of cloud service usage among enterprise goes to waste, according to Razzaq. Moreover, IT ops teams spend 30 percent of their time on tasks that should be automated, Razzaq said. In many cases, the speed and number of events running in today's cloud services are beyond the scope of today's engineering teams, he added.
YotaScale has a four-phase approach to addressing this issue, starting with detection, then diagnosing the root cause of a problem, remediation and ultimately using all that data to predict future issues. "A lot of tools in the market are still stuck in this first phase, where you're still getting analytics and reports, but there's not a lot of decisioning capability," Razzaq told IT Ops Times.
"The manual approach is where a ton of decision-support data points are needed for the human operators because they are dealing with a bunch of data," he added. "And the autonomous approach is where you have a lot of these insights, you know the root cause, you know where this stuff is headed, and you can prevent this before the issue occurs."
Razzaq founded YotaScale on that premise, which he learned firsthand as senior director of platform engineering at PayPal, where he was responsible for ensuring availability, performance and scalability for the large payment processing company. Founded in 2105, YotaScale is also announcing $8 million in Series A funding from Crosslink Capital. That brings the amount raised to $11 million, with earlier funding from Pelion Venture Partners and Engineering Capital.
Among others approaching autonomous cloud IT operations and cost management are CloudHealth Technologies, CloudCheckr, Cloudability and services offered by cloud providers such as AWS Trusted Advisor and Cloudyn, acquired by Microsoft last year.
YotaScale's namesake IT cloud automation service is SaaS-based and is now officially available. The company is also revealing its first customers, AdRoll, Expedia, Reltio and ProtectWise. YotaScale lets cloud ops teams make more informed decisions on the amount of cloud usage required to ensure workloads meet business and operational objectives and predict performance issues before they happen.
It currently runs in Amazon Web Services (AWS), where it can gather cloud provider data such as cost, utilization, inventory, logs, utilization and cost. Next year, YotaScale will also gather similar data from Google Cloud, followed by Microsoft Azure.
YotaScale also pulls cloud ops policy data such as mandatory tags that are applied, resource whitelists and purchase preferences, as well as actual customer costs, utilization, logs and containers and data from third-party performance, memory and configuration management tools. It also feeds that information to Slack, Atlassian Jira, PagerDuty and ServiceNow.
After training its model for three years on 502 petabytes of operational data from 476,000 different resources and 21,000 applications, YotaScale claims it has achieved 85 percent accuracy and that it has processed $202 million in usage costs.
"While 85 percent may not sound impressive, the value prop here is that in 85 percent of cases you receive is valid and actionable advice for how to optimize your cost/performance/availability by rebalancing your cloud resources," said Torsten Volk, an analyst at Enterprise Management Associates. "The other 15 percent you can ignore and expect the system to further learn what's important to you so that it can come up with improved results in the future."
Carl Brooks, an analyst at 451 Research, offered a similar view. "The promise they're making is that machine learning and policy-based automation of workloads across multiple best-execution venues need to get married," Brooks said. "That will allow enterprise IT to reach the next levels of efficiency and outcome. That's in the face of severe challenges in actually getting this done in enterprises, where the blockers are not technical but around people and process. YotaScale is the right direction."
Ultimately, YotaScale intends to move beyond just detection to provide automated remediation to provide autonomous cloud IT operations management with support for applications running in multi-cloud scenarios using Kubernetes-based orchestration. The service is aimed purely at cloud-native applications, according to Razzaq.
"Our goal is to ride the Kubernetes wave," he said. "As more and more workloads get converted to Kubernetes, we will see a lot of on-prem stuff get converted. The tool cost for $250,000 Amazon EC2 instance hours would be roughly $40,000 and $45,000.