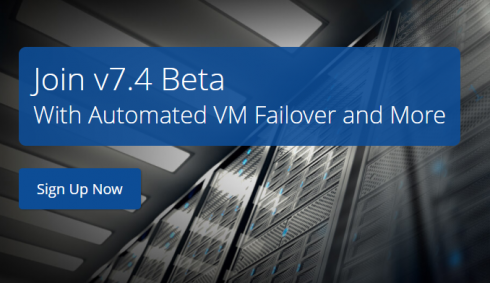 Virtualization and cloud backup company NAKIVO has announced version 7.4 of NAKIVO Backup and Replication with a long list of features and improvements. According to the company, the biggest feature of the release is the automated VM disaster recovery for VMware, Hyper-V and Amazon Web Services.  
"The new version [of Backup and Replication] provides VM Failover jobs, which include network mapping and re-IP rules," the company wrote in the announcement. "With this new feature, VM failover can be performed in a single click. VM Failover jobs can help NAKIVO Cloud Service Providers deliver Disaster-Recovery-as-a-Service more efficiently and cost effectively."
In addition to expanded disaster recovery functionality, NAKIVO Backup and Replication version 7.4 will add:
Instant File Recovery to Source, allowing users to instantly retrieve files from deduplicated VM backups
Enhanced AWS EC2 Instance Backup, providing native backup for AWS EC2 instances to an on-site or cloud location along with storing up to 1,000 recovery points per protected EC2 instance
Adjustable bandwidth throttling for backup jobs
Self-backup for jobs and system configuration; instant recovery and screenshot verification for Hyper-V VMs for instantly booting from compressed and deduplicated VM backups and providing an automated way to near-instantly verify the consistency of Hyper-V VM backups and replicas
Global search, to instantly search for VM replicas, backups, jobs, repositories and transporters — NAKIVO product manager Veniamin Simonov says: "If the user has found 10 different jobs that include the word 'windows,' the user can start all of those jobs with a single click" via the 'search and act' functionality
Log truncation and instant object recovery for Microsoft SQL Server 2017, updating the functionality to support the latest version of Microsoft SQL Server
Built-in chat with technical support
"We are constantly pushing on three main areas that make people happy. First — simplicity or ease-of-use," Simonov said. "In other words, we're always trying to make our software as easy to use as possible, and people value this. Another is performance — trying to make it as fast as possible and consume as little storage as possible. And third — affordability."
Simonov hopes this first of NAKIVO's 2018 quarterly updates, now available in beta, will make it clear to customers that they're standing up to those tenets.
"We are excited to introduce great new features in v7.4, which were driven by the customer feedback," said Bruce Talley, CEO of NAKIVO, Inc. "The new version of NAKIVO Backup & Replication further automates VM data protection in VMware, Hyper-V and AWS environments."