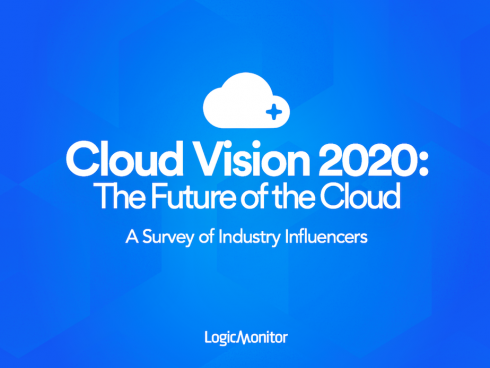 Advancements being made in artificial intelligence and machine learning are fueling a move to the cloud. A newly released report from LogicMonitor predicts enterprises will relocate a majority of their IT workloads from the data center to the cloud by 2020 as more intelligent devices, such as those used in IoT, begin to come online.
The report, The Future of the Cloud Study, surveyed more than 300 industry influencers such as analysts, media consultants, and vendor strategists from the AWS re:Invent conference in November.
"Our customers continue to ask for guidance in planning their cloud migration strategies," Jeff Behl, chief product officer for LogicMonitor, said in the company's announcement of the study. "We designed our survey to gather feedback from some key industry influencers to understand their predictions, and to provide our customers with insights and answers."
According to the report, the cloud competition between Amazon, Microsoft Azure and Google Cloud Platform will also begin to intensify. "Amazon will grow 18 percent to claim more than half of the market for cloud services, yet Microsoft Azure and Google Cloud Platform will enjoy explosive growth: 200 and 800 percent respectively."
Other key findings of the study are determining what is going to happen in the next two years. Based on the study, the percentage of workloads running in public clouds will grow to 41 percent, while workloads running on-premises will fall to 27. The balance will run on private or hybrid clouds.
However, the study did show that public cloud will have its challenges for organizations. The top three challenges include security (66%), governance and compliance (60%), and lack of cloud experience (58%). In addition, more than a third of the respondents claim that a lack of visibility to the cloud platform.