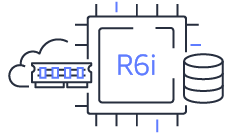 The general availability of Amazon EC2 R6i instances are designed for memory-intensive workloads.
​​Like M6i and C6i instances, these new R6i instances are built on the AWS Nitro System, building blocks that can offload a lot of the traditional virtualization functions to dedicated, delivering high performance, high availability, and highly secure cloud instances.
The new release offers up to 15% improvement in compute price/performance, up to 20% higher memory bandwidth, 40 Gbps for Amazon Elastic Block Store (EBS) and 50 Gbps for networking.
Users may need to upgrade their Elastic Network Adapter (ENA) for optimal networking performance for the new R6i instances. Additional details are available here. 
Red Hat bolsters partnerships to accelerate data science pipelines on open hybrid cloud
Red Hat announced the availability of Red Hat OpenShift Data Science as a field trial in addition to an expanded partner ecosystem around this cloud service offering. 
Red Hat OpenShift Data Science offers enterprises greater flexibility to select technologies for developing, testing, and deploying ML models, according to the company in a post. 
The expanded ecosystem includes insights into model behavior on Intel hardware through Intel OpenVINO Pro for Enterprise and the Intel oneAPI AI Analytics Toolkit. It also includes NVIDIA GPU technology, Anaconda Commercial Edition, IBM Watson Studio with AutoAI, and more. 
IOTech partners with Google Cloud to provide integrated edge-cloud solutions at scale
The edge software provider IOTech announced that it is expanding its partnership with Google Cloud to offer integrated edge-cloud solutions for enterprise companies. 
"The integrated edge-cloud solution allows for fast deployments, significantly reducing the time to value. Adding an OT device is enabled through simple configuration and no coding skills are required," said Keith Steele, the CEO of IOTech Systems.
IOTech's Edge Xpert can reside on the edge gateway or server level while Edge XRT can reside on legacy or resource constrained hardware such as MCUs and PLCs, typically found at the far edge.
​​Liquidware announces FlexApp integration with Amazon Elastic Fleet
With the new integration, users can instantly add any application stack to Elastic Fleet with FlexApp One.
FlexApp One applications are self-contained in one shareable file and run without the need for an additional application player on Windows sessions. 
The integration extends the desktop fleet with any application needed and requires no installation, virtualization, or update cycles.
"We worked with Amazon during the Beta phase to test integration with FlexApp and the FlexApp One functionality," stated Thomas Lahaussois, the head of strategic alliances at Liquidware. "It's a great use case, since we extend the new fleet use case to all applications instead of only the ones in portable format. With FlexApp One, you can now instantly add any application stack to your Elastic Fleet."