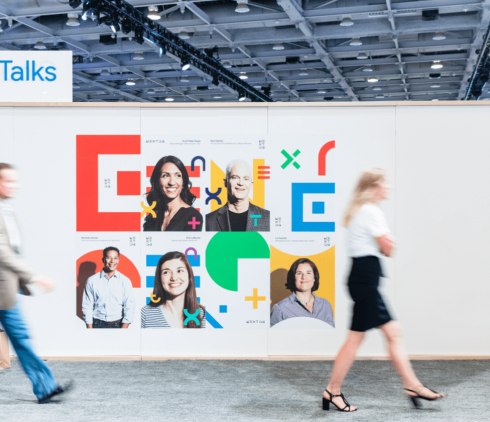 Google Cloud's annual conference for IT professionals, Google Cloud Next, is taking place this week in San Francisco, and a number of companies are using the event as an opportunity to showcase new solutions and updates to existing ones.
Here are some of the highlights:
XMatters launches a new tool for incident response
XMatters has launched a new no-code tool for creating incident management workflows. The new Flow Designer will allow authorized users to automate incident resolution easily from a drag-and-drop interface.
Key benefits of Flow Designer include greater consistency for IT teams, higher velocity due to decreased time to resolution, and increased productivity as a result of less unplanned work by development and technical teams.
"The intention of xMatters Flow Designer is simple: to make it easy for enterprises to create cohesive, consistent resolution processes that translate into higher productivity benefits. Flow Designer turns hours of coding into a few minutes of dragging and dropping. That makes it much easier to automate incident management, which in turn frees up IT to focus on business outcomes and objectives," said Doug Peete, chief product officer at xMatters.
Cohesity announces Backup-as-a-Service solution for Google Cloud
Cohesity is launching a new software-as-a-service solution that will provide backup and recovery services for applications that are running on Google Cloud. Cohesity Backup Service for Google Cloud provides a single dashboard for managing services. It also offers self-service capabilities based on user roles and integrates natively with Google Cloud's Identity and Access Management to enable that, Cohesity explained.
Pricing is based on the amount used, and is integrated with GCP billing. According to Cohesity, this month-by-month pay structure will allow customers to minimize their "capital expenditures and administrative complexity."
"Cohesity has quickly become a preferred choice for customers to back up their cloud and on-premises workloads, and we want to make it easy for enterprises to leverage our innovative and efficient platform no matter where their data resides," said Vineet Abraham, senior vice president of engineering, Cohesity. "We're excited to add to the powerful capabilities of GCP so that companies can overcome mass fragmentation challenges and truly maximize the value of their data."
Harness now available in the GCP marketplace
Harness is now available for purchase in the GCP marketplace. The continuous delivery-as-a-service platform will provide Google Cloud customers with a way to automate the continuous delivery process.
Key features of Harness include a pipeline builder, workflow wizard, continuous verification, automated rollback, continuous security, and real-time delivery analytics.
Last week, Harness also joined the Continuous Delivery Foundation as its newest project.
Sysdig announces Cloud-Native Visibility + Security Platform 2.0
Sysdig has announced version 2.0 of its Cloud-Native Visibility + Security platform. The latest version will offer a single, unified view of the health, risk, and performance of cloud-native environments.
According to Sysdig, the solution solves a wide range of use cases in cloud-native environments, such as image scanning, compliance, performance monitoring, run-time security, troubleshooting, auditing, and forensics.
Portworx now available on Google Kubernetes Engine
Storage company Portworx revealed that Portworx Enterprise is now available on Google Kubernetes Engine (GKE) and GKE On-Prem. According to the company, Portworx Enterprise helps solve some of the challenges that prevent enterprise from adopting Kubernetes, such as high availability, disaster recovery, and data security.
This new partnership will enable those enterprises to fully automate data management across the entire application lifecycle, Portworx explained.
"Google Cloud has been a leader in enterprise IT for decades and has recently made tremendous strides in cutting-edge innovations using artificial intelligence and container orchestration tools like Kubernetes to modernize enterprise applications. We're extending Google Cloud's Kubernetes DNA to enable enterprises to securely run mission-critical stateful applications like databases on GKE in the cloud and on-prem," said Murli Thirumale, CEO and co-founder at Portworx. "Our goal is to arm enterprises with the tools needed to manage hybrid- and multi-cloud applications across environments consistently, so that they can focus on innovation and move faster than ever without compromising security or increasing complexity."
HPE announces new partnerships
HPE has announced two new partnerships, one with Google and another with Nutanix. Its partnership with Google will allow IT ops pros to build and manage services on-premises and in hybrid cloud. Its partnership with Nutanix will enable customers to deploy mission-critical workloads while "reducing operation costs, accelerating time to value, and offering greater simplicity."
Confluent partners with Google Cloud
Confluent has announced a strategic partnership with Google Cloud. As a result, the Confluent event streaming platform will be closely integrated into GCP. According to Confluent, the integration will offer users a seamless experience across management, billing, and support.
"Event streaming has become a foundational layer in hybrid cloud, internet of things, and microservice architectures. The availability of Confluent Cloud as a native service on Google Cloud Platform gives developers an amazing cloud-native experience of Apache Kafka in seconds," said Jay Kreps, co-founder and CEO at Confluent.
Blue Medora release BindPlane for Google Stackdriver
Monitoring company Blue Medora has released BindPlane for Google Stackdriver. BindPlane provides visibility into Google Stackdriver and its new log streaming capabilities will extend that visibility into customer data centers and public clouds.
The company also announced a partnership with Google Cloud, which will allow them to offer an embedded monitoring-integration-as-a-service solution for Stackdriver customers.
"As observability emerges as a critical capability in the enterprise, operations data can no longer be thought of as a second-class citizen if we want performance answers quickly," said Mike Kelly, chief technology officer at Blue Medora. "BindPlane's log stream takes an innovative approach to logs, one that makes more sense for observability platforms like Stackdriver supporting use cases like performance optimization or security."