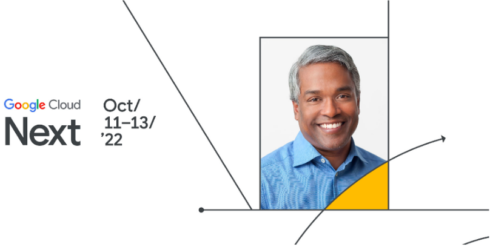 Google Cloud Next '22 kicked off today. The event brings together companies from different industries to solve the challenges of tomorrow. 
"With customer expectations and global markets rapidly changing, organizations need to make sure they are prepared for tomorrow by making the right decisions today," Thomas Kurian, CEO of Google Cloud, wrote in a blog post. 
At the event, Google Cloud made a number of announcements. Here are some of the highlights:
Strides toward a more open data cloud
The company hopes to provide an open, extensible, and powerful data cloud. This will ensure customers utilize their data from all sources, sources, and types of analysis. 
It has announced support for analyzing unstructured streaming data in BigQuery, a new translation AI Agent called Translation Hub, and is combining Looker Studio and Google Data Studio under the Looker umbrella.
The company also announced support for data formats like Apache Iceberg, Delta Lake, and Apache Hudi, and expanded integrations with data platforms like Collibra, Elastic, MongoDB, Palantir Foundry, and ServiceNow. 
Another new solution is Vertex AI Vision, which allows data scientists to utilize computer vision and image recognition. According to Google, it can reduce the time it takes to create computer vision applications by days. 
Creating an open infrastructure
The company announced it is expanding its global network with the addition of five new Google Cloud regions in Austria, Greece, Norway, South Africa, and Sweden. 
New infrastructure solutions include the C3 machine series and TPU v4. Google also updated Anthos with a new user interface, better fleet management capabilities, and virtual machine support. 
To help customers on their cloud migration journey, it announced Dual Run to assist with common migration roadblocks, and Migration Center to bring together assessment, planning, migration, and modernization in a single tool. 
It also announced the OpenXLA Project, which is an open-source ecosystem of machine learning technologies developed by companies like Google, AMD, Arm, Intel, Meta, and NVIDIA. 
New tools to secure cloud infrastructure
Google Cloud announced a number of tools on this front, including:
The company also expanded its cloud ecosystem partnerships, by adding over 20 companies, including Aiven, Broadcom, Citrix, Climate Engine, Commvault, Confluent, CrowdStrike, Datadog, Dataiku, Dell Technologies, Elastic, Fortinet, Gitlab, Iron Mountain, JumpCloud, LumApps, MongoDB, NetApp, Okta, OpenText, Palo Alto Networks, Pega Systems, Ping Identity, Siemens, SUSE, Thales, Thought Machine, Veeam, VMware, and more.
Improved collaboration across Google spaces
"With hybrid work, the physical office is no longer the sole space in which people work together. Organizations need a digital workspace that helps their teams communicate and collaborate, create and share ideas, and get work done safely no matter where they're working from," Kurian wrote. 
Google Meet is being updated with new capabilities such as adaptive framing to let everyone in a conference room be seen clearly, and speaker spotlight, which lets presenters embed their video directly in Google Slides.
Smart canvas, which brings intelligence and collaboration to documents, has been updated to allow companies to create their own templates. Google also announced that smart chips for AODocs, Atlassian, Asana, Figma, Miro, Tableau, and ZenDesk are coming next year that will give users more ways to engage with third-party data without having to switch contexts. 
The company also announced new data loss prevention rules for Chat and client side encryption for Gmail and Calendar. 
New APIs are available for Chat and Meet as well. This will allow users to programmatically do tasks like starting meetings or initiating messages from a third-party app. At launch, Asana, Lumapps, and ZenDesk will leverage these into their applications. 
The company also announced updates to Project Starline, which creates a 3D model of a person to enable coworkers to feel like they are physically in the same space. After lots of internal testing, the company is creating an early access program with partners like Salesforce and T-Mobile.