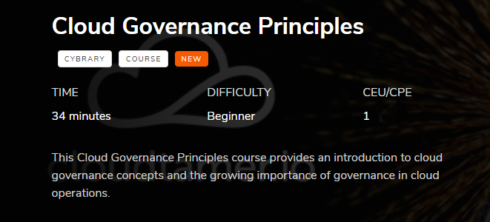 Cloud governance company cloudtamer.io has announced it is partnering with IT training platform Cybrary. Together, the two companies are launching a Cloud Governance Principles training course.
The new course is designed for security leaders, financial leaders, and IT and cloud practitioners, cloudtamer.io explained.
The new course will cover topics such as cloud governance definitions, the journey to cloud adoption, challenges of cloud governance at scale, and cloud account management, budget enforcement, and compliance. 
"Our team has been hard at work designing and building this robust course, in partnership with Cybrary, which will allow any course participant to walk away with actionable best practices around creating needed boundaries and safeguards through cloud governance," said Brian Price, CEO and co-founder of cloudtamer.io. "We are seeing more organizations in both the private and public sectors turning to cloud governance solutions to ensure that they can effectively scale over time in the cloud without enormous cost overruns or security and compliance breaches."
The Cloud Governance Principles course can be accessed here.