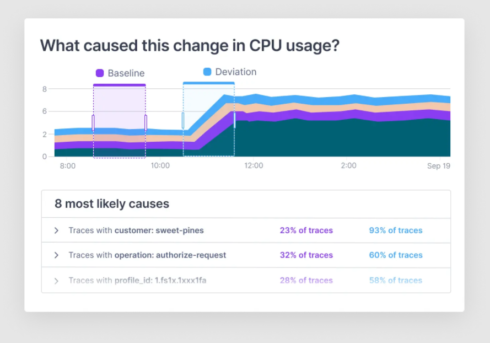 Observability platform provider Lightstep announced a new way to approach observability with the release of Change Intelligence. The new solution aims to provide better clarity and enable users to resolve issues before they hit customers. 
According to the company, while AIOps promises to improve IT operations, it doesn't take into account today's complex and ever-changing application infrastructure. Current AIOps solutions are able to find patterns in data and predict recurring situations, but don't provide insight into what can go wrong in advance. 
RELATED CONTENT: 
ITOps Observability Guide
Why OpenTelemetry is here to stay
The new Change Intelligence solution was inspired by the Google Monarch project, which monitors availability, correctness, performance, load and other aspects of applications. Change Intelligence surfaces important changes within the system, with context on what caused the change, provides full-stack correlations, aggregates metrics and trace analysis, and enables team members to visualize system performance. 
"We took inspiration from the technology we built at Google, took it to the next level, and made it generally available to all Lightstep users," said Ben Sigelman, co-founder and CEO of Lightstep. "With Change Intelligence, any developer, operator, or SRE can instantly understand changes in their service's health and – most importantly – what caused those changes. In this way, we're able to actually deliver on the promise of AIOps: to automate the process of investigating changes within complex systems."
The company also announced core monitoring dashboards and actionable alerts; infrastructure, application and cloud metrics; and automatic migration from Datadog and Prometheus/Grafana. 
"The truth is that companies are already drowning in data from dashboards, alerts, endless logs – as an industry we're so afraid of missing data that we collect all of it," said Daniel 'Spoons' Spoonhower, co-founder and chief architect of Lightstep. "But from talking with customers, we've learned that this can create just as many problems as it solves. We're not looking to add more data or noise – we're looking to find root causes and resolve issues faster."