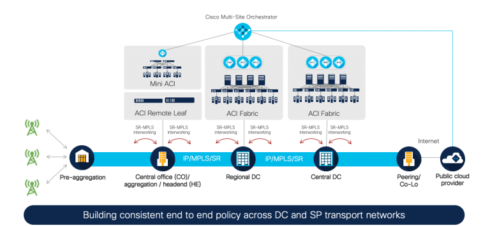 Cisco has announced the general availability of Cisco Application Centric Infrastructure (Cisco ACI) 5.0. Cisco ACI 5.0 introduces new features for service providers, simplified multicloud deployments, Day 2 operations tools, and user experience improvements.
"It is more important than ever to have a network that is automated and secure from the edge, to the data center and into private and public clouds to help address some of the challenges both current and future," Srinivas Kotamrajum, senior director of product management of data center infrastructure at Cisco, wrote in a post. 
This release adds a number of new features for service providers. There is now support for Segment Routing MPLS (SR-MPLS) and EVPN handoff. This allows service providers to connect ACI-based clauses to 5G networks and have end-to-end segmentation capabilities. Cisco ACI 5.0 also introduces a cross domain policy, which automates the mapping of 5G application and transport slices, allowing for differentiation between low latency applications and non-critical applications, Cisco explained. SR-MPLS policies can also now be centrally automated across 5G Telco Cloud sites, such as central, regional, and edge data centers.
This release also introduces features intended to help simplify multicloud deployments. Cisco ACI 5.0 introduces support for the AWS Transit Gateway, and support for Azure is also planned. 
Other key features for multicloud deployments include enterprise grade segmentation and multi-tenancy, policy-based L4-L7 services automation, automation of high performance interconnect, and secure automated connectivity across on-premise to public clouds. 
There are also a number of improvements to user experience in this release, such as a centralized view of cloud resource inventory and a new Day 0 wizard that provides a guided way to complete Day 0 Configuration for SNMP and Syslog policies. 
Cisco ACI 5.0 also introduces features aimed at simplifying Day 2 operations. These include multi-fabric support, multicast control plane visibility, customizable dashboards, AppDynamics integration, and a beta for a topology view. "Through these innovations, customers can transform their Day 2 Operations from being reactive to proactive, and reduce their OPEX and downtime by automating detection, location, and efficiently root-cause problems," Kotamrajum wrote.