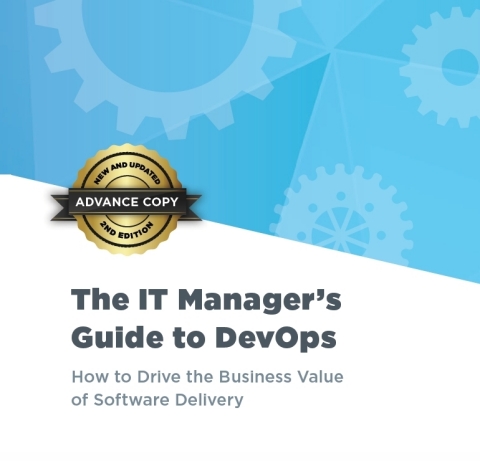 XebiaLabs, the recognized leader in DevOps and Continuous Delivery software, today announced the release of the latest edition of The IT Manager's Guide to DevOps: How to Drive the Business Value of Software Delivery, by Tim Buntel and the late Robert E. Stroud. The book, which is a vastly expanded update of The Manager's Guide to Continuous Delivery, provides foundational knowledge about how to use DevOps and Continuous Delivery to optimize software processes to drive business goals. XebiaLabs will be giving away free advance copies of the book at this week's DevOps Enterprise Summit in Las Vegas.
Using DevOps to Drive Business Value
The promise of delivering better software faster is why so many companies have moved to DevOps—and it's well worth the effort. According to the "Accelerate: State of DevOps, 2018" survey, high-performing DevOps teams deploy 46 times more often than low performers, recover from incidents 2555 times faster, and are 7 times less likely to experience change-related failures. High-performing DevOps teams create better, more secure software and accelerate time to market. But to get there, organizations need to adopt a big-picture approach to using DevOps to enable business objectives.
"DevOps is not just a technical thing where, if you use the right tools, you'll magically get great results," said co-author, Tim Buntel. "But, much of the information about DevOps gets into the technical weeds. It doesn't clearly lay out how DevOps can optimize software delivery to empower the business. This book fills that gap. It's ideal for people who need to connect software delivery with business delivery to increase value."
A Definitive Guide to DevOps and Continuous Delivery
A lot has happened in the world of DevOps and Continuous Delivery since the publication of The Manager's Guide to Continuous Delivery, a concise source of DevOps knowledge for IT professionals around the world. The IT Manager's Guide to DevOps significantly expands and updates its predecessor to offer the latest, essential information about DevOps and Continuous Delivery, such as:
The business benefits of DevOps and Continuous Delivery, and the cultural, technical, and process considerations involved in achieving them
The stages of Continuous Delivery and how a DevOps platform supports them
Designing a Continuous Delivery pipeline
Understanding containers and microservices
Doing Continuous Delivery in the cloud
The crucial role of DevSecOps in creating high-quality software
Measuring the impact of the development process
Scaling a DevOps transformation
The book also includes a new foreword by DevOps author and thought leader, Gene Kim, in addition to a foreword by David Farley, co-author of the seminal book Continuous Delivery.
XebiaLabs' Activities at the DevOps Enterprise Summit, Las Vegas
Attending the DevOps Enterprise Summit in Las Vegas? Stop by XebiaLabs' booth, #313, for your free advance copy of The IT Manager's Guide to DevOps. Also catch the breakout session by XebiaLabs customer, Lincoln Financial Group, attend "A Taste of Spain" cocktail party, and get an autographed copy of Accelerate: The Science Behind DevOps, by Dr. Nicole Forsgren, CEO and Chief Scientist at DevOps Research and Assessment (DORA).
Those not attending the DevOps Enterprise Summit in Las Vegas can download the advance copy of The IT Manager's Guide to DevOps from the XebiaLabs website.
About XebiaLabs