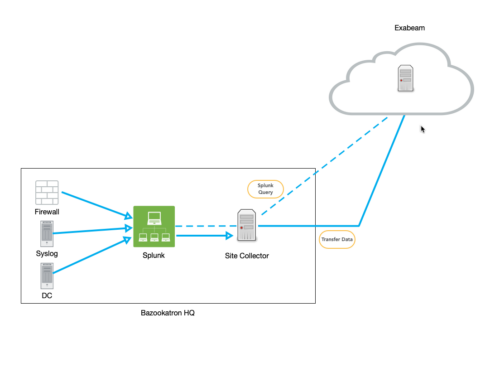 FOSTER CITY, Calif. & SAN FRANCISCO–(BUSINESS WIRE)–Exabeam, a global cybersecurity leader and creator of New-Scale SIEM™ for advancing security operations, and Cribl, the data company for IT and Security, today announced a new strategic partnership. The partnership enables New-Scale SIEM to more quickly and securely ingest data for enterprises and accelerate deployment. With a shared mission to empower security teams to seamlessly integrate the right data at scale, the Exabeam and Cribl partnership can enable enterprises to better manage high volumes of data, effectively secure their environments, and ultimately help reduce risk and cost.
"Leveraging Cribl and Exabeam together has made onboarding new data sources faster and less complex, allowing us to focus engineering efforts on more critical business needs," said Michael Meis, Associate Chief Information Security Officer, University of Kansas Health System. "We can filter out lower value data and make room for the right data sources to increase visibility. Using Cribl Stream, we are able to control data quality and maximize the value of our Exabeam implementation."
The Exabeam cloud-native New-Scale SIEM offers rapid data ingestion, hyper-fast query performance, powerful behavioral analytics, and an automated investigation experience. With Cribl Stream, security teams also gain additional control over telemetry data and the flexibility to shape logs from multiple sources. Exabeam and Cribl are working together to address the challenges of routing, filtering, and masking data that can hinder or delay security investigations, hamper new technology adoption, and degrade regulatory compliance.
"We are incredibly excited to be partnering with one of the fastest-growing players in security and IT data. Successful companies collaborate to make their customers even more successful, and this is just one of the many ways that Cribl and Exabeam will continue to bring new, innovative solutions to market," said Chris Cesio, CRO, Exabeam. "Moving to cloud-native SIEM or deploying a new SIEM in any organization can be a massive endeavor. Among other considerations, it requires security and IT teams to take a hard look at the data they need to ensure continuous and advanced threat detection, investigation, and response (TDIR) capabilities."
"Cribl and Exabeam have a shared understanding of the many challenges IT and security teams are facing today," said Matt Bauer, SVP of Global Sales, Cribl. "Customers deserve to quickly realize the full potential of their investments, but being able to cost-effectively manage massive amounts of data while keeping the organization secure is no easy feat. This new partnership will lighten the load for many of our customers by enhancing data ingestion, lowering storage costs, and speeding up time to value."
To learn more about the Exabeam and Cribl joint solution, read the Exabeam Guide.