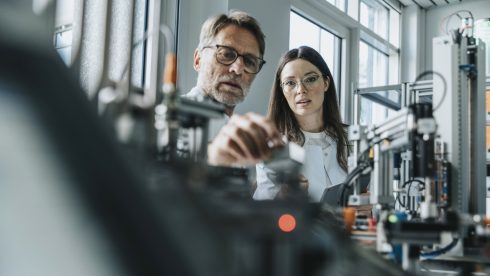 IBM and Verizon have been working together on advancing 5G and have recently announced a new initiative to reach that goal. The two companies are creating a testbed environment at the IBM Industry Solution Lab in Coppell, TX to develop and test 5G-enabled use cases for Industry 4.0 applications.
Customers of the lab will be able to utilize Verizon 5G Ultra Wideband with technologies like hybrid cloud, edge, and AI technologies. This could lead to the development of a new generation of intelligent applications, such as guided vehicles, manufacturing process automation, and visual quality inspection. 
"This lab demonstrates the power of optimizing solutions for a new era of hybrid cloud that leverages the growing relationship between 'connectivity + compute' to create new value. The lab will provide hands-on experience for enterprises as they seek ways to leverage the new 5G capabilities – reduced latency, increased bandwidth, network slicing and edge – by trialing new use cases and highly automated deployment and management approaches," Steve Canepa, global general manager and managing director of IBM's communications sector, wrote in a post.
The testbed will offer a standalone 5G and Multi-Access Edge Computing (MEC) environment as well as technical resources and expertise for customers to utilize. 
According to IBM, the initial priority focus areas will include asset monitoring and optimization, field worker productivity and safety, and visual inspection. 
IBM's partnership with Verizon was first announced last year and recently Arvind Krishna, CEO of IBM, shared in a keynote at Mobile World Congress that IBM was working with Verizon to "deploy a modern open hybrid cloud strategy across Verizon's 5G network core and service orchestration platform."