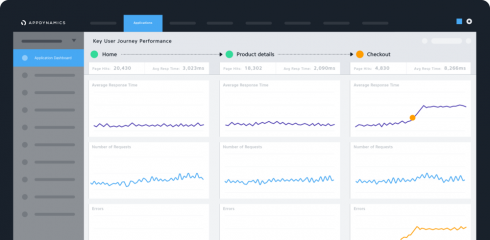 With a vision for a Central Nervous System for IT, application performance insight provider AppDynamics today announced its strategy around the pillars of visibility, insight and action.
IT systems have become too large and too complex to manage manually, so organizations need to adopt an AIOps approach, according to Matt Chotin, senior director of technology strategy at AppDynamics, a Cisco company. That, he said, is predicated on the values of prediction and proaction over reaction and action over analysis.
The Central Nervous System for IT will tie in data from the application, servers and network, and use the visibility and insights gleaned from these environments to come up with automated actions that resolve issues and anomalies, Chotin said.
In the area of visibility, AppDynamics today announced Serverless Agent for AWS Lambda, so organizations can monitor and manage those functions in the context of a broader application, Chotin explained. That can include following a transaction from its beginning to its conclusion, correlating the function to AppDynamics' core concept of a Business Transaction, and providing a view of the functions' impact on user experience. "For the first time," the company wrote in its announcement, "businesses will have a complete view into how the performance of serverless functions correlates with the rest of an application's ecosystem, including hybrid and multi-cloud environments, to give… full visibility into the impact on user experience, application performance and business impact."
The Serverless Agent for AWS Lambda also integrates with Cisco's Application Centric Infrastructure software-defined networking solution to give visibility into performance from both an application and network level, the company wrote in its announcement. "ACI can help IT organize the network in the context of the application," Chotin said. AppDynamics for ACI enables users to track transactions through the application as well as into the network, giving IT ops teams the exact location of constructs in the network that are hurting app performance. The integration also helps organizations reduce unexpected outages by giving IT ops teams the ability to see how any change in network configuration and policy will affect app performance.
Also announced today is AppDynamics Cognition Engine, the insight solution for app performance diagnostics and root-cause analysis that extends AIOps to the application layer. It uses machine learning from its 2017 acquisition of Perspica and automation to "detect problems before customers see them," Chotin said. "The Cognition Engine improves anomaly detection using models to identify what normal behavior is." Because the machine learning algorithms can identify problems quickly, before they elevate to the point of triggering thresholding alerts, companies can remediate those issues before their users are even aware that there is a problem.
The Cognition Engine "leads you to take better actions," Chotin said. "Integrations with [tools for] incident response, event correlation, workload optimization and release orchestration give you the ability to be even more accurate.'
The goal of tall this, according to Chotin, is to reduce the number of steps it takes to dig into a system to find problems. "This lets developers spend more time in their IDE and less time in monitoring tools," he explained.