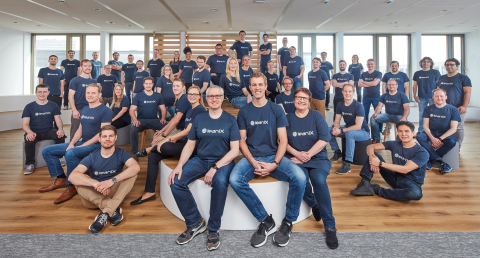 LeanIX, the leading provider of Software-as-a-Service solutions in Enterprise Architecture (EA) Management, today announced that it has closed $30 million in Series C funding, led by Insight Venture Partners. Previous investors DTCP (Deutsche Telekom Capital Partners), Capnamic Ventures, and Iris Capital also participated in the round. The closing brings LeanIX's total funding to nearly $40 million since its founding in 2012. Insight Venture Partners Principal, Teddie Wardi, will join the LeanIX board of directors.
The investment, which will be used to accelerate growth in the U.S. and fuel continued product innovation, comes amidst a period of record growth for LeanIX. Founded in 2012 by André Christ and Jörg Beyer, the company quickly solidified its position as the next-generation EA management solution not just limited to IT architecture experts but enabling IT transparency and collaboration across the business. In 2018, LeanIX achieved several major milestones, including doubling its global customer base, expanding operations in Boston, and growing its global headcount with the appointment of several senior-level executives. This year the company continued to set new standards: as the first EA tool with a certified integration with ServiceNow, it eliminates data silos and automates data capturing. The new LeanIX Store turns the application into an extensible platform in which customers and partners can build and distribute best practice apps such as reports. Most recently, LeanIX was recognized as the 10th fastest-growing company in Germany on the Deloitte 2018 Technology Fast 50 list.
"Today's enterprises face data overload, overwhelmed by archaic IT landscapes that cripple productivity and business opportunity. Organizations need clear, actionable insights, and more than ever, enterprises are opting for IT modernization and demanding innovative EA tools," said André Christ, CEO, and co-founder of LeanIX. "Together with our investors, we aim to become the category leader for EA in modern technology business management. While Agile, DevOps and Cloud are becoming mainstream in enterprises, we provide the best technology for a successful adoption and continuous management."
"For businesses today, effective enterprise architecture management is critical for driving digital transformation, and requires robust tools that enable collaboration and agility," said Teddie Wardi, Principal at Insight Venture Partners. "LeanIX is a pioneer in the space of next-generation EA tools, achieved staggering growth over the last year, and is the trusted partner for some of today's largest and most complex organizations. We look forward to supporting its continued growth and success as one of the world's leading software solutions for the modernization of IT architectures."
Today, LeanIX helps organizations efficiently manage and optimize their Enterprise Architecture, providing a Software-as-a-Service to reduce IT complexity, ensuring IT compliance and enabling business growth. Use cases include application rationalization, technology risk management and cloud transformation which the company offers to some of today's most respected brands including Adidas, DHL, Merck, and Santander, with strategic partnerships with Deloitte, ServiceNow, and PwC, among others.