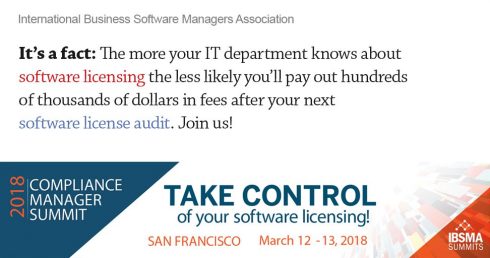 Gartner predicted that by 2022, 30 percent of digital initiatives are going to fail because of inadequate ITAM capabilities. The number is so high because ITAM is such a foundational competency.
Ron Brill, the CEO of Anglepoint and newly appointed board member of the the IT Asset Management (ITAM) committee at the International Standards Organization (ISO), is attending today's Compliance Manager Summit to give a talk on software asset management standards called "Sneak Peak at New SAM Standards."
The ITAM standards are the 19700 family of standards, according to Brill. This family of standards includes multiple standards that fall under ITAM, all starting with 19700, and branching off into -1, -2, and -3, for example, for the specific standards.
According to Brill, standards are important because they set the bar for your organization. "When you have an IT standard, it's like a common benchmark that you can measure organizations against," said Brill "From a management perspective, it gives management a level of comfort that their organization is actually following best practices."
In the session, Brill talks about what standards have already been released, what standards the committee is currently working on, and what direction the industry is heading in.
Brill said that his personal objectives for the committee as chairman can be separated into three buckets. The first bucket is a "catch up" bucket. He said there are a number of areas where the committee is a bit behind the curve. Due to constantly emerging technology, they will always be a bit behind the curve, but Brill says it's important not to stay too far behind the curve.
The second bucket is about integration. There are many different standards and frameworks out there, and there is some overlap among them. They use different words for similar requirements because they are being developed by multiple committees that don't coordinate with each other. This is not ideal for organizations that need to implement them, Brill explained.
Finally, an emphasis will be placed on marketing and evangelism, such as ensuring people are aware of the standard and making sure people are about contribute content like feedback and comments. The committee will be launching a website to help with this.