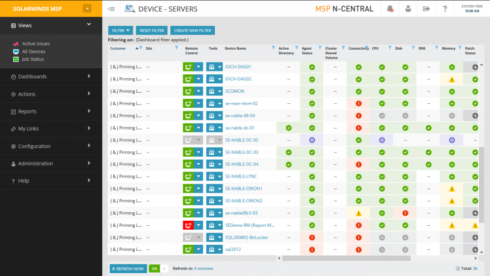 SolarWinds N-central 12.3 is now available and it integrates SolarWinds Endpoint Detection and Response capabilities to defend endpoints against nearly every type of attack. 
If an attack succeeds and a breach occurs, automated quarantine and rollback help ensure recovery is fast and customer downtime is minimal. 
"Security threats multiply and morph daily, and once a new threat is resolved, cybercriminals find another angle to exploit. One of the main reasons MSPs lose business today is due to cybersecurity concerns and attacks," said Mav Turner, the group vice president of products at SolarWinds MSP. "EDR integration with SolarWinds N-central quickly and easily allows MSPs to add security services to their portfolio and protect customer endpoints from a single dashboard."
Other new features focus on continuing the commitment to deliver market-leading network management solutions.
Existing Network Topology Mapping has also been updated to accelerate and improve customer device information access with enhancements including a new node filtering widget and easier viewing of node asset and device warranty details.
In addition, users can now ramp up their automation workflows with new VMware objects that help discover, monitor, and manage VMware systems including Host-, Storage-, Guest-, and Snapshot-related objects. 
Additional details are available here.