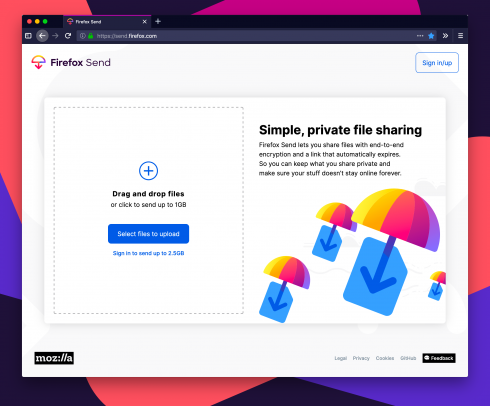 Mozilla has decided to graduate one of its Test Pilot experiments: Firefox Send. According to Mozilla, Send is an encrypted file transfer service that can be used from a browser.
Senders will be able to customize file options, such as when the file link expires, the allotted number of downloads, and the ability to add an optional password.
Send can be used to share large files (1GB normal, or up to 2.5GB using a free Firefox account), which will make it ideal in use cases such as sharing professional design files or collaborating on presentations with co-workers.
Mozilla will also be launching a beta Android app for Send latest in the week.
"We know there are several cloud sharing solutions out there, but as a continuation of our mission to bring you more private and safer choices, you can trust that your information is safe with Send. As with all Firefox apps and services, Send is Private By Design, meaning all of your files are protected and we stand by our mission to handle your data privately and securely," Mozilla wrote in a post.