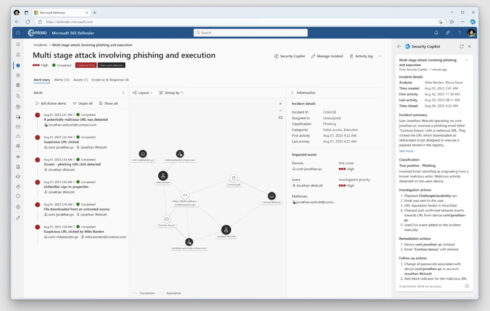 Users wanting to try out Microsoft Security Copilot now have the chance to do so through the company's Early Access Program. 
Microsoft Security Copilot was first announced in March 2023 and, according to Microsoft, customers using it in preview have saved up to 40% of time on core security operations tasks like writing complex queries and summarizing security incidents.
"Security Copilot can effectively up-skill a security team, regardless of its expertise, save them time, enable them to find what previously they might have missed, and free them to focus on the most impactful projects," Vasu Jakkal, corporate vice president for Security, Compliance, Identity, and Management at Microsoft, wrote in a blog post. 
The company has also added several new capabilities since the initial announcement, such as integration into Microsoft 365 Defender and the inclusion of Microsoft Defender Threat Intelligence at no extra cost.
The Microsoft 365 Defender integration enables users to create incident summaries with a single click, get guided response to incidents, use natural language queries when hunting for cyberthreats, and more easily analyze and understand complex malware analysis. 
Integration with Microsoft Defender Threat Intelligence enables users to access, operate on, and integrate Microsoft's threat intelligence. 
"Generative AI is transformative for security, and generative AI combined with Microsoft threat intelligence and our security-specific models will enable us to tip the scales in favor of security teams," Jakkal said. 
Microsoft noted that this Early Access Program is open only to "qualified customers," and advises customers to contact their sales representative to learn more about the qualifications.