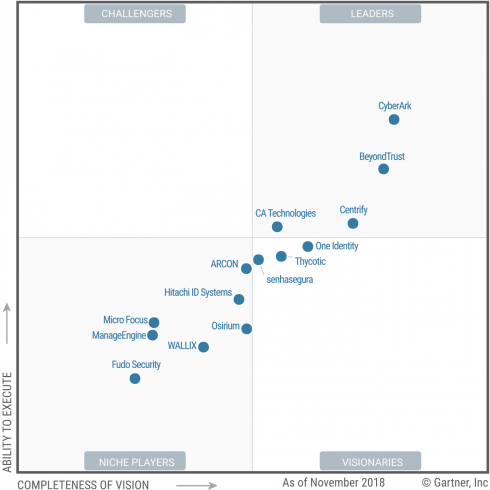 Gartner has revealed its first Magic Quadrant for Privileged Access Management (PAM). According to Gartner, PAM tools enable organizations to "provide secure privileged access to critical assets and meet compliance requirements by managing and monitoring privileged accounts and access."
Gartner predicts that by 2021, more than 50 percent of organizations that use DevOps will be using PAM solutions. Currently, less than 10 percent of organizations use them.
"Privileged access management is one of the most critical security controls, particularly in today's increasingly complex IT environment. Security and risk management leaders must use PAM tools in a long-term strategy for comprehensive risk mitigation," Gartner wrote in the report.
PAM tools allows organizations to discover privileged accounts; automatically randomize, manage, and vault credentials; control access to privileged accounts; and isolate, monitor, record, and audit privileged access sessions, Gartner explained.
Leaders in the Magic Quadrant included CyberArk, BeyondTrust, Centrify, and CA Technologies. Full details about PAM providers is available here.