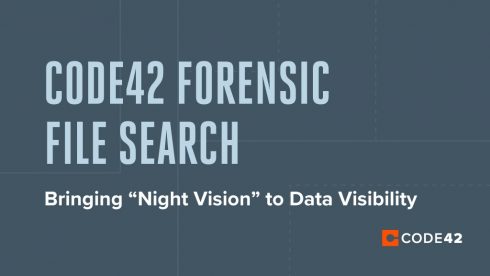 Code42 today introduced a new product to deliver near real-time answers to complicated data security questions. Code42 Forensic File Search intends to assist security, IT, and compliance professionals in reducing the amount of time it takes to investigate, respond to, and recover from data security incidents.
"Code42 Forensic File Search is a game-changer for security professionals," said Mark Ruchie, Code42 Security Advisory Board member, and vice president and chief information security officer at Entrust Datacard, a leading provider of trusted identity and secure transaction technology solutions. "It quickly and easily drills down into the details of high-risk data movement. Through one holistic view, it offers the context security teams need to respond to a wide range of cyber threats and disruptions."
Once security incidents happen, it puts a lot of pressure on a team to investigate and respond to them as quickly as possible. Forensic File Search enables security teams to get answers to challenging questions in seconds versus days or weeks because it collects file metadata and events from endpoints and make them searchable via the cloud.
"Responding to cyberattacks takes too long, exposing organizations to greater risks and climbing costs," said Joe Payne,president and chief executive officer of Code42. "By collecting, analyzing and indexing file events, Code42 Forensic File Search helps organizations shrink time-to-response windows. Our new product provides visibility to where data lives and moves across all endpoints in seconds. In the months ahead, we will extend this same visibility to data held in cloud applications, including Microsoft OneDrive, Google Drive, Box and Slack."
Other capabilities of the tool include gathering current and historical file events and metadata details that include MD5 hashes, date ranges, file types and paths.