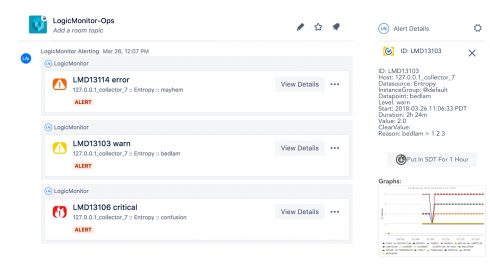 LogicMonitor has announced a new integration with Atlassian's communication tool Stride. With this integration, IT Ops teams can now view, acknowledge, and respond to IT performance issues directly inside Stride.
In addition, teams will have the ability to receive monitoring alerts, schedule downtime directly from Stride rooms, and communicate alert information between team members. They will also be able to look at device information, alert details, and graphs in Stride, as well as tag LogicMonitor graphs with important events from message actions. Finally, there is bot functionality for account, alert, and device information.
"The ability to use Atlassian's new communication tool, Stride, to access LogicMonitor platform alerts provides users with a real-time window into the performance of their infrastructure," said Jeff Behl, chief product officer at LogicMonitor. "For IT Operations teams, receiving monitoring alerts via chat lets them respond faster to issues, receive meaningful context for end-to-end troubleshooting, and facilitate collaborative triage all within Stride."
According to Behl, leveraging ChatOps will help improve transparency and collaboration for teams. According to the company, the new integration with Stride will help set the stage for companies to achieve collaboration among operations and development teams, allowing them to make more informed business decisions.
"Communication and collaboration are key to achieving a healthy DevOps culture. With the integration of LogicMonitor into Stride, users gain an enhanced level of communication," said Forrest Evans, product manager at LogicMonitor. "With powerful monitoring data at their fingertips, DevOps teams can collaborate in a more real-time basis with the most relevant and current information and take appropriate action."