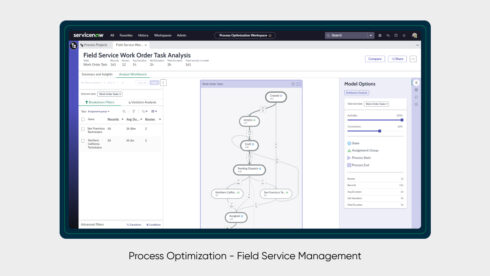 ServiceNow has announced a major expansion to its Now Platform with the Utah release, with new automations, risk reduction capabilities, and employee productivity and engagement improvements. 
New automation capabilities include a new AI Search for helping service workers find the information they need faster. The new smart search includes features like auto-complete suggestions, exact match, and typo handling. 
Process Optimization supports even more workflows now, including Field Service Management (FSM). Also, there are a number of new Workforce Optimization capabilities, such as a centralized location for HR managers to see and understand their workforce so that they can optimize it. 
Document Intelligence, which uses AI to extract text from documents, now has a more streamlined process for pulling data, and can be used to pull in data from long tables in documents like invoices or purchases. And ServiceNow Impact updates will enable leaders to manage their system health and reduce the time it takes to bring their critical dashboards online. 
There are also a number of updates related to risk minimization. Health and Safety Incident Management makes it easy to resolve safety incidents and also assigns preventative actions. Security Incident Response Workspace allows managers to examine incidents and build reports about them. 
Operational Resilience Workspace provides a 360-degree view of risk information across the company, including issues, vulnerabilities, outages, and failed controls. And Log Export Service enables exporting of ServiceNow logs into other security analytics tools. 
Workplace engagement and productivity updates include Theme Builder, which enables creation of branded themes; Enterprise Architect Workspace, which provides a consolidated user experience for enterprise architects; Workplace Lease Administration, which provides property managers with insights and data so they can make better decisions about their office space; and Workplace Space Management, which provides insights on how to best organize a workspace. 
"Organizations no longer need to choose between speed and innovation, or great experiences and business growth," said CJ Desai, president and chief operating officer at ServiceNow. "ServiceNow's intelligent platform offers fast time to value, continuous net new innovation, and a simplified and seemingly invisible upgrade experience so customers can do more with less and transform their business models. Our latest release is designed for this moment – empowering organizations to maximize efficiency, accelerate ROI on digital spend, and create simplified, connected experiences across their entire value chain."