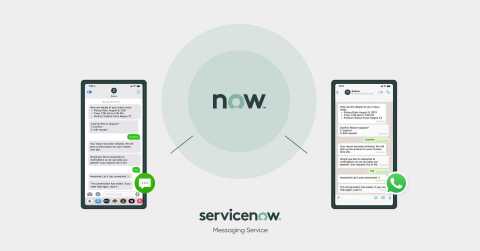 With the introduction of a new messaging service, powered by Twilio's platform, ServiceNow hopes to better connect organizations. 
"COVID reinforced the importance of putting the customer first, which is why today's organizations must deliver digital experiences that are seamless and effortless for customers," said John Ball, SVP and GM of customer workflows at ServiceNow. "With ServiceNow Messaging Service, we are improving customer engagement while supporting customers on the channels of their choice. This is a natural extension of ServiceNow Customer Workflows, which unite the front, middle, and back-office to create a great end-to-end customer experience."
ServiceNow Messaging Service allows organizations to connect SMS and WhatsApp into ServiceNow, which gives employees another channel to communicate over. 
According to the company, the new service will allow customers to find answers, get help, and request services through popular messaging services that they might already be familiar with. Businesses will be able to resolve issues faster too. 
The platform is powered by Twilio, and this new service is an extension of ServiceNow's existing partnership with Twilio that started in 2018. 
"Digital leaders in every industry have figured out that messaging with customers in transparent, two-way conversations is the most effective way to build strong customer relationships," said Molly Fischer, senior director of strategic ISVs at Twilio. "More than 100 billion messages were sent across Twilio's platform last year and 97% of messages are read within 3 minutes! We're proud to further our partnership with ServiceNow and help businesses improve the way they reach their customers on this critical customer engagement channel."