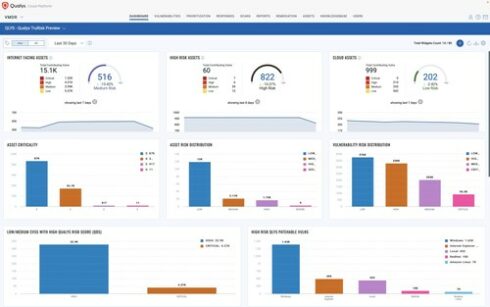 Qualys, provider of cloud-based IT, security, and compliance solutions, today announced the release of Qualys Vulnerability Management, Detection and Response (VMDR) 2.0. 
This release offers users insights into an organization's unique risk posture as well as the ability to use drag and drop workflows to orchestrate responses.  
According to the company, VMDR 2.0 offers TruRisk and is geared at helping security and IT teams increase efficiency and save time by providing shared context and automating vulnerability management processes such as vulnerability assessment of ephemeral cloud assets, alerting, and prioritization. 
"Cyber risk is becoming part of the business risk equation. Even the most advanced organizations can't patch all the threats they uncover, which increasingly includes poorly misconfigured services," said Michelle Abraham, research director at IDC. "Organizations must prioritize efforts that result in the maximum reduction of risk. Qualys's approach to cyber risk management considers multiple factors like vulnerabilities and misconfigured systems, so organizations can focus on fixes that reduce their overall risk."
With VMDR 2.0, security and IT teams are enabled to reduce risk with holistic scoring, quickly remediate risks at scale, receive preemptive attack alerts, and automate operational workflows. 
"In this era of increasing attacks and board-level attention on cyber resiliency, efficiently managing cyber risk is more important than ever," said Sumedh Thakar, president and CEO of Qualys. "With VMDR 1.0, we innovated by bringing the four core elements of vulnerability management into a seamless workflow to help organizations efficiently respond to threats. We're changing the game again with VMDR 2.0 allowing organizations to kickoff remediation workflows for vulnerability management tasks, prioritize remediation on the critical issues that reduce risk, and streamline responses and integrations with ITSM solutions like ServiceNow." 
To learn more about this release, read the blog post. To request a free trial of VMDR 2.0 click here.