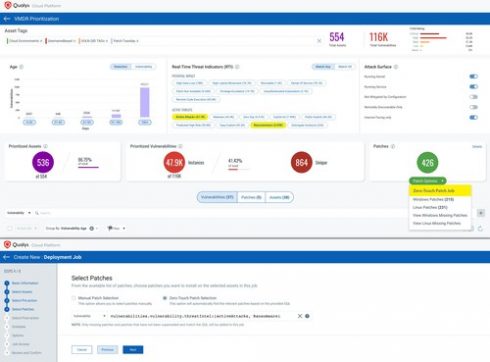 Qualys has announced the addition of zero-touch patching capabilities into its Patch Management platform. According to the company, this new capability will ensure that endpoints and servers are patched as soon as those patches become available. 
Utilizing zero-touch patching capabilities, companies will be able to reduce ransomware risks, accelerate vulnerability SLA compliance, and lower their security costs and complexity. 
"With cyberattack volume growing exponentially, integrating automation into your cybersecurity arsenal has moved from a nice to have to a must have," said Sumedh Thakar, president and CEO of Qualys. "As organizations implement zero-trust security frameworks, the ability to automate patching so they can better trust assets becomes a foundational aspect of their cyber defense strategy."
1E announces integration with ServiceNow 
The integration brings together ServiceNow's Service Graph Connector Project with the 1E Tachyon connector. According to 1E, its Tachyon Service Graph Connector will allow customers to create a reliable system of information on endpoints and respond to employee issues in real-time. 
"The 1E Tachyon Service Graph Connector ensures IT teams are able to provide the best possible experience to employees. Many of our customers already utilize the powerful combination of 1E and ServiceNow to deliver the digital experience employees want, and we anticipate rapid adoption of the new Service Graph Connector," said Kaustubh Jhunjhunwala, product manager at 1E. "This offering allows for a lean CMDB that's not only easy to set up and maintain, but sustains completeness and correctness objectives after implementation teams have packed up and left."
SkyKick closes $130 million funding round
The latest funding brings the company's total funding to-date to over $200 million. The new funding is from Morgan Stanley, which joins previous investors Navin Thukkaram, Craig Nerenberg, Hawk Equity, Trebuchet Capital, Schechter Private Capital.
The company will use the new funding to continue to innovate on its platform, the founders said in a statement.