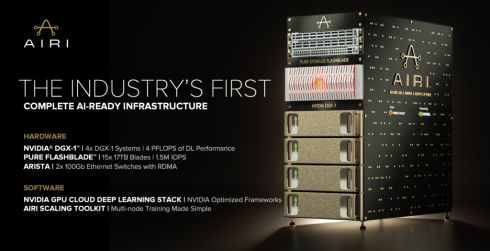 Pure Storage and NVIDIA are teaming up on enterprise artificial intelligence innovation. The companies announced AIRI, an AI-Ready Infrastructure solution at the GPU Technology Conference in Silicon Valley today.
"AIRI has one mission: to bring AI-at-scale to every enterprise by shattering the barriers of infrastructure complexities encumbering organizations who aspire to be AI-first," Matt Burr, vice president and general manager for Pure Storage FlashBlade, wrote in a post.
According to Pure Storage, too often AI initiatives are stalled due to infrastructure complexities and legacy, DIY software and hardware. AIRI is designed to change that with the ability to operationalize AI-at-scale, and ability to accelerate time-to-insight.
AIRI is powered by NVIDIA and Pure Storage FlashBlade, and developed with data architects, scientists, business leaders, cloud organizations, enterprises and governments in mind.
"AI has fantastic potential for aiding humanity," said Charles Giancarlo, CEO, Pure Storage. "It has the capacity to significantly improve the quality of all of our lives. Safer autonomous vehicles will save tens of thousands of lives and make us more efficient. AI-driven advances in life sciences have made preventative healthcare a current reality rather than a vague future possibility. AI will provide highly personalized experiences for the consumer, while keeping online communities safer. AIRI will accelerate AI research, enabling innovators to more rapidly make advances to create a better world with data."
AIRI works to reduce racks of complexity, enable data scientists to focus on algorithms instead of infrastructure, provide more compute and data, run multi-node training, eliminate data bottlenecks, and features NVIDIA optimized deep learning frameworks.
"Businesses everywhere are scaling-up AI infrastructure to attack their most important challenges and opportunities," said Jim McHugh, vice president and general manager of deep learning systems at NVIDIA. "With AIRI, our customers get a validated approach that brings together industry-leading compute and high-performance storage with proven results."