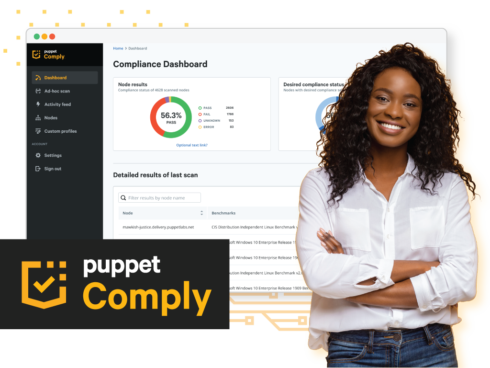 Puppet has announced a new solution designed to simplify hybrid infrastructure compliance for the Global 5000. Puppet Comply will work in conjunction with Puppet Enterprise to assess, remediate, and enforce infrastructure configuration compliance policies at scale. Additionally, the solution is designed to work across traditional and cloud environments. 
"In today's enterprise, CIOs are responsible for a myriad of competing priorities – from increased agility mandates and accelerating time to market to addressing security and compliance concerns before they impact customer trust," said Abby Kearns, CTO at Puppet. "Of these priorities, compliance is all too often deemed an inhibitor of delivering features faster. With Puppet Comply, CIOs no longer need to pick compliance over innovation or speed, but instead can automate their compliance without impacting agility objectives."
According to Puppet, the average cost for non-compliance is around $14.82 million, which is up 45% since 2011. In addition, increased regulatory standards over the last couple of years in making this space even more complex. Puppet Comply was built to find and address compliance issues while maintaining fiscal responsibility. 
Features include: desired and enforced state; increased visibility; easy-to-read reports; ability to find compliance issues and build content to fix them. 
"The work required to ensure infrastructure compliance in order to pass audits is painstaking and time-consuming, particularly in organizations with large and complex infrastructure," said Alex Hin principal product manager at Puppet. "Additionally, most security and ITOps teams work in silos, with disparate tools and priorities. Puppet Comply ensures ITOps teams have the tools and resources they need to proactively manage compliance without disrupting, or duplicating, the security team's workflow."