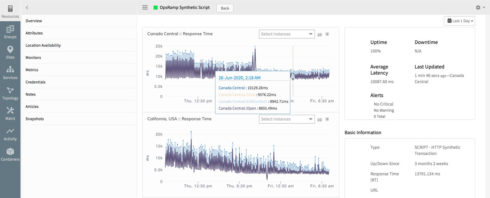 OpsRamp announced new synthetic and cloud monitoring capabilities for identifying and resolving user performance issues across business-critical applications and services.
The OpsRamp Summer 2020 Release also introduces 22 new cloud monitoring integrations for AWS and visualizations for machine learning-powered event correlation.
"As IT organizations adjust to remote infrastructure operations, OpsRamp now combines user experience metrics with end-to-end synthetic transaction visibility and service maps to deliver better business context and improved customer experiences across their websites and digital properties," OpsRamp wrote in a post that contains additional details on the new release.
The release includes new synthetic monitoring capabilities that identify bottlenecks across multi-step transactions and also correlate transactional performance such as page responsiveness and page timeouts with business metrics such as conversion rates and completion rates.
It includes transaction latency breakdown for easier identification of specific steps that contribute to user experience issues, HTTP response header logging for web performance insights, and customizable transaction steps for better context on web service incidents.
New AIOps capabilities help incident managers minimize the impact of IT outages with faster service restoration, according to OpsRamp.
A new alert sequencing explainer and alert sequence policy status describe how the machine learning algorithms work and show model training progress at each stage of the event management lifecycle.
Also, OpsRamp can now consume, process, and analyze Syslog events so that IT teams can better analyze system behavior and troubleshoot business-critical services with the right context.
OpsRamp now offers out-of-the-box alert integrations for AppDynamics, Microsoft Systems Center Operations Manager, Sumo Logic, and Sysdig adding to the platform's existing integration ecosystem.