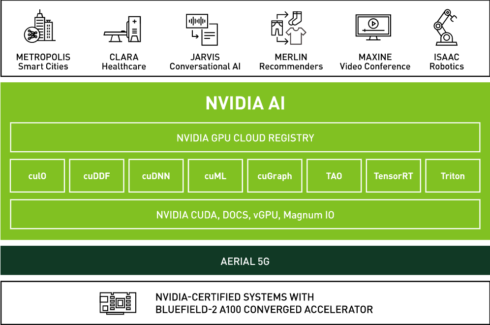 NVIDIA has announced a new collaboration with Fujitsu, Google Cloud, Mavenir, Radisys, and Wind River. Together the companies will work to develop solutions for NVIDIA's AI-on-5G platform and help accelerate the creation of smart cities, smart factories, advanced hospitals, and intelligent stores. 
"In this era of continuous, accelerated computing, network operators are looking to take advantage of the security, low latency and ability to connect hundreds of devices on one node to deliver the widest range of services in ways that are cost-effective, flexible and efficient," said Ronnie Vasishta, senior vice president of Telecom at NVIDIA. "With the support of key players in the 5G industry, we're delivering on the promise of AI everywhere.
The AI-on-5G platform utilizes the NVIDIA Aerial software development kit and NVIDIA BlueField-2 A100, which is a card that combines GPUs and DPUs. 
It offers a single platform for managing 5G and AI applications such as manufacturing robots, automated guided vehicles, drones, wireless cameras, and self-checkout aisles. 
Several of the companies participating in this collaboration are also members of the O-RAN Alliance, a group working to develop standards for "more intelligent, open, virtualized and fully interoperable mobile networks. 
"AI-on-5G is transformative. Google Cloud's industry-specific AI solutions meet scalable vertical needs," said Shailesh Shukla, vice president and general manager for Networking at Google Cloud. "With the power of 5G, Google's AI offering increases exponentially. We are excited to expand our work with NVIDIA to deliver AI and 5G computing at the edge with Anthos and NVIDIA's accelerated edge technologies."