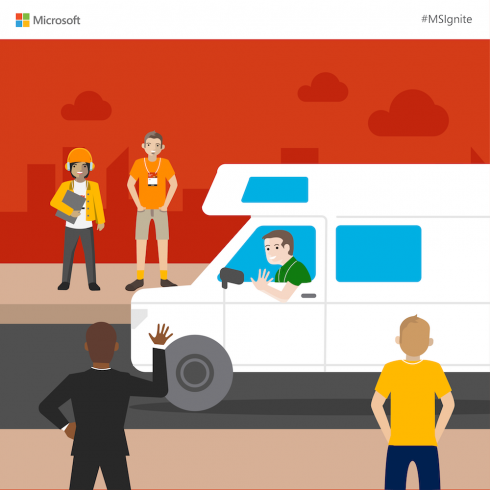 Along with the numerous announcements made by Microsoft at its Ignite conference in Orlando this week, a number of other software providers discussed new products and updates to their offerings.
CData Software launches cloud data and integration hub
CData, which offers data access and integration solutions using standards-based drivers, launched CData Cloud Hub for software-as-a-service, NoSQL and Big Data. The Hub enables integration with more than 100 data sources through standard protocols for MySQL and SQL (TDS).
"CData Cloud Hub supplies enterprise IT teams and product developers alike with robust data connectivity 100 percent in the cloud," Eric Madariaga, CData's chief marketing officer, said in a news release announcing the Hub. "Our unique approach to SQL-based data access allows organizations to facilitate self-service BI and citizen integration across their enterprise without the burden of managing on-premise systems or writing custom integration code."
CData Cloud Hub comes with a range of key advantages, including:
Data as a Service – no software to install, no drivers to configure, no database requirements
Broad compatibility – supports all data applications and real-time integration with 100+ enterprise tools
Rich metadata discovery – all data exposed from the underlying data source, including dynamic data
Full CRUD support – create, read, write & update support for live data
Hybrid deployment options – Data as a Service (DaaS), dedicated/managed deployment or on-premise
NetFoundry provides secure, integrated connectivity for Azure Virtual WAN
NetFoundry announced its AppWANs is available today as a free trial as an integrated on-ramp to connect to Microsoft Azure. Integrated provisioning between Azure Virtual WAN and NetFoundry AppWANs means that AppWANs can provide enterprise-grade security, improve performance and simplify network management.
"The Azure Virtual WAN service provides optimized branch and VNET networking.  NetFoundry enables customers to realize the Azure Virtual WAN benefits, automating the on-premises connectivity to Azure with secure, software-only NetFoundry AppWANs," said Mike Kochanik, vice president of alliances for NetFoundry.
NetFoundry now offers Azure cloud-native agility, instant connectivity, and simple deployment and scalability through its Application Specific Networking (ASN) approach. NetFoundry enables ASNs by allowing its customers to use its global network control platform to spin up connectivity instantly.  The result is instant and secure connectivity for IoT deployments, Virtual WANs, and custom secure application connectivity between organizations, partners and end users.
Cohesity supports Azure Data Box, integrates with Office 365
Cohesity, a provider of hyperconverged secondary storage, today announced its Pegasus 6.1 release with new integrations with Microsoft that enable users to deploy secondary applications and data on a hybrid cloud architecture. Its new support for Azure Data Box gives users the ability to deploy large data sets in Azure Blob Storage and providers disaster recovery between on-premises environments and Azure, according to the company.
In its news release, Cohesity explained the Azure Data Box integration lets customers "register Data Box as an external target, create a policy-based protection job, and subsequently archive data to Data Box." Also, new failover and failback capabilities enable Azure to be used for full life cycle disaster recovery, with IT operations teams able to spin up VMs based on on-premises backups and then upload them back to their original locations afterward.
Sumo Logic announces new Azure services applications, integrations
Cloud-native data analytics platform provider Sumo Logic has announced new applications for Azure services and new integrations with Azure Monitor and Blob Storage.
With this latest release, Sumo Logic now also supports Azure SQL Database, a managed relational cloud database service, and Azure Active Directory, a cloud-based directory and identity management service that provides directory services, application access management and identity protection, to provide an even deeper layer of operational, security and business insights.
The new Sumo Logic Apps for Azure are now available via the Sumo Logic App Catalog:
Azure SQL Database: Monitor activity in Azure SQL Database with Sumo Logic and gain insights into resource utilization, blocking queries, database wait events, errors, runtime execution stats and other database analytics through pre-configured dashboards.
Azure Active Directory: Monitor Azure Active Directory activity and leverage dashboards to provide insight into role, user and group management, successful and failed sign-in events, directory management, and application management data to better understand users' experiences.
Furthermore, with native integrations for Microsoft Azure Monitor and Blob Storage, Sumo Logic offers out-of-the-box solutions that eliminate the dependency on virtual machines (VMs) and require zero maintenance for customers.
Blue Medora announces new monitoring integrations for Azure
IT monitoring integration provider Blue Medora is making its BindPlane integration service available for Azure, giving its customer the ability to monitor multi-cloud and hybrid environments.
The company has highlighted these key features:
Seamless integration: A single, self-maintaining connection delivers a Dimensional Data stream of health and performance on 100+ services/resources. Key workloads include Oracle DB, Microsoft SQL Server, SAP ERP and HANA, Microsoft IIS and Apache Tomcat.
Dimensional data: a real-time metrics stream that includes highly
granular behavioral detail — beyond what a single endpoint API connection might
include — as well as rich relational context.
Intelligent data collection: Agentless smart collector with resource auto-discovery and touchless management
Full-stack dashboards: Built-in dashboards deliver dimensional data in operational context for relational visibility
SaaS: Delivered as a service, simple and secure
MuleSoft updates network insights platform
Application network platform provider MuleSoft today announced the next major release of its Anypoint Platform, which uses network graph technology to provide access to information about their applications and systems. The power of the application network lies in its graph, which contains metadata of the application network, its components and its operational characteristics, the company said in its announcement.
Organizations are being required to connect an ever-increasing number of applications, data and devices to create entirely new customer experiences and revenue channels, especially as new competitors enter the market and disrupt existing business models. By building an application network, companies can fundamentally increase their pace of innovation. With visibility into information across the application network through its graph, organizations gain deeper insights that are otherwise incredibly difficult to obtain in today's enterprises, the company said.
Highlights of the Anypoint Platform October 2018 release include:
Machine learning for data mapping: To automatically provide data mapping recommendations, Anypoint Design Center's flow designer applies machine learning to the mappings from the application network graph. Automapping recommendations dramatically accelerates the speed of development for organizations, providing suggested transformations and allowing users to further tailor them to fit their organization's business processes.
Automatic holistic view of APIs and integrations: Anypoint Visualizer automatically builds a holistic view of an organization's APIs and integrations using the knowledge from the application network graph. Visualizer is further enhanced with data from Anypoint Monitoring, providing the ability to troubleshoot issues quickly. By segmenting the view by average response time, errors and throughput, users can understand where issues may emerge before they happen and pinpoint the root cause when they do arise.
Expanded suite of API management policies: As an application network expands, so does the number of users, traffic and access points, which can increase the vulnerability of the network. That is why it is important to apply security at every layer, embedding security into API designs, tokenizing data at rest and in transit, and applying policies on individual APIs and at the edge. With this release, MuleSoft is introducing new API policies into the application network graph that provide additional layers of security and control. These policies can be easily applied with clicks, not code, helping users increase their security posture to prevent breaches, such as DoS attacks.
Chef announces new Microsoft Azure integrations
Chef announced new offerings designed to help users move legacy apps onto Microsoft Azure. In addition, the offerings will enable users to manage configuration and compliance of their Azure infrastructure, the company explained.
Offerings include:
A public preview of Chef Automate Managed Service for Azure
Chef Workstation integration with Azure Cloud Shell
Integration with InSpec with Azure's cloud infrastructure, currently in beta
"Chef gives companies the tools they need to confidently migrate to Microsoft Azure so users don't just move their problems when migrating to the cloud, but have an understanding of the state of their assets before the migration occurs," said Corey Scobie, senior vice president of products and engineering at Chef. "Being able to detect and correct configuration and security issues to ensure success after migrations gives our customers the power to migrate at the right pace for their organization. Today's news builds on our long-established collaboration with Microsoft and our commitment to delivering new automation solutions that will help Azure and Azure Stack customers accelerate digital transformation."
K2 announces new connector for Microsoft Flow
Low-code solution provider K2 revealed a new connector that will enable users to leverage the company's deep functionality with Microsoft Flow. Microsoft Flow is a cloud-based solution for creating automated workflows. The new connector will provide new visual capabilities without having to interact with an API.
"Many of our customers have made significant investments in Microsoft technology and have grown to expect a first-party experience when using Microsoft technology with K2 Cloud," said K2 co-founder and SVP of product Olaf Wagner. "As more lines of business look to automate simple and repetitive tasks, we expect they will turn to Microsoft Flow for these scenarios. We're strategically staying ahead of this paradigm shift by ensuring IT groups can easily and securely enable more day-to-day automation options for their business partners without relinquishing control."