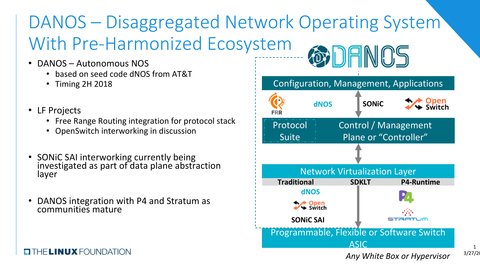 The Disaggregated Network Operating System (DANOS) project is now a part of the Linux Foundation. DANOS is designed to enable community collaboration across the entire network stack. The project is initially based on AT&T's distributed Network Operating System (NOS), an open software framework alternative to traditional networking operating systems.
AT&T released dNOS to open source in January. IT was designed to speed the adoption and use of white boxes in a service provider's infrastructure.
"As far as we know, DANOS is an industry first: an open-source, carrier-grade operating system for wide area networks," said John Medamana, vice president of packet optical network for AT&T. "DANOS is a milestone for us and the industry, and we're excited to see how developers and other users implement and build upon it."
The Linux Foundation will incorporate contributions from open-source communities to build a standardized distributed NOS. The NOS creation has been challenging up until now because of the complexity and magnitude of software and hardware requirements, according to the foundation. Each device in the network needs its own operating system.  
However, the growth open source has led to advances in software and hardware that has fostered an ecosystem of advanced networking applications, the Linux Foundation explained. This includes new and open technologies and building blocks that would host an open and flexible NOS.
"We are pleased to welcome DANOS to The Linux Foundation community of open, collaborative innovation," said Arpit Joshipura, general manager of networking for the Linux Foundation. "DANOS will provide an open NOS framework that leverages existing open source resources and complementary platforms such as switches and white box routers. We invite others in the broader ecosystem to join the effort to accelerate innovation and creation of an industry-standard disaggregated NOS."