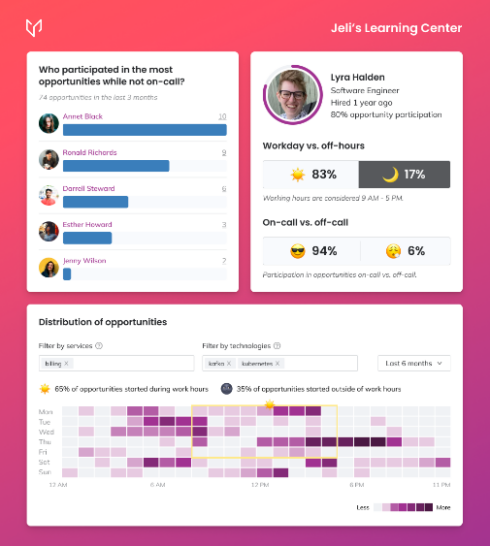 The incident analysis platform Jeli.io today announced the launch of a new socio-technical learning center within the Jeli platform. 
Socio-technical systems refers to the approach to complex organizational work design that takes into account the interaction between people and technology in the workplace. 
This learning center is intended to improve organizational resilience by placing an emphasis on human-centric metrics on top of technical systems data. 
The company believes that these expanded insights will offer teams the ability to build better on-call rotations, understand who to include in a real-time incident based on past experiences, and fight against burnout for the most critical employees who are responsible for maintaining uptime. 
The platform works by ingesting and analyzing socio-technical data employing socio-technical tools like Slack, Jira, and Zoom. Jira then visualizes this data in order to better understand where and when incidents are occuring.
Additionally, the platform helps teams understand who within the organization is being most impacted by incidents as well as which technologies and services are frequently associated with these incidents. 
"People are the most important component of any company yet we continue to see SRE tooling focus squarely on technical system metrics," said Nora Jones, CEO and founder of Jeli.io. "We're helping organizations to understand who is being paged constantly outside of work hours, where the knowledge silos are sitting, and helping them run more efficiently – because no matter how sophisticated your technology, it will only succeed with a social system designed to support it effectively."
According to the company, the deep insights provided by the platform work to help them identify brittleness within the organization and tackle these issues before an incident even occurs. 
Since the company's launch in 2020, Jeli has used failures and emergencies to benefit organizations and help them better understand how they can improve and reduce these issues in the future. 
"Jeli's new learning center draws my attention immediately to the things about incidents that are the hardest grind on our teams: who's getting paged off hours and who is getting pulled into incidents when they are not on-call?" said Eric Dobbs, principal site reliability incident analyst at Indeed. "We've never had this view into our incidents before and it will change how we see and think about incidents."
Lastly, the platform takes years of research into consideration in order to integrate best practices on how to effectively learn from failures. This research spans across aviation, fire departments, and tech companies.
For more information, visit the website.